Article content
The Calgary Flames will be without Chris Tanev for their next two games. 
Article content
There's no sugarcoating that news: It stinks. 
Article content
But it could be a lot worse. 
Fortunately, the Flames have a nine-day break following Friday's game against the Seattle Kraken and the team is hopeful that Tanev can return to their defence when they get back at it against the New York Rangers on Feb. 6. 
The all-star break/bye-week couldn't be coming at a better time. 
Article content
"Tanev will miss two games and if everything goes well we'll get him back after the break," said Flames head coach Darryl Sutter. "If there's any blessing to the break, that's it. Thankful, because the surgery he had last summer was major surgery, so it wasn't that."  
Tanev left Monday's win over the Columbus Blue Jackets in the first period with what appeared to be a shoulder injury. His absence was felt, particularly on the penalty kill, where the Blue Jackets scored twice after he'd departed the ice and had gone to the locker room. 
Article content
And not having him for Thursday's game against the Chicago Blackhawks and Friday's matchup with the Kraken is going to make life more difficult for the Flames. 
Nikita Zadorov was moved up to the Flames' second pairing alongside MacKenzie Weegar at Wednesday's practice, while it looks like Connor Mackey will slot back into the lineup to play with Michael Stone against the Blackhawks. 
Flames' netminder Dan Vladar quietly on the brink of equalling franchise record

Flames' Tanev building back from surgery as season goes on

Flames' Lucic proves he can still throw down with the best of 'em
"More ice time, more responsibility," Zadorov said when he was asked how Tanev's absence would impact him. "Spoke to Darryl today, he told us when we're losing Tanny we've got to bring something extra. When you lose a guy like Tanny, it's defending and good positioning in the d-zone. I think every guy in the back end has to be five per cent better in those particularly things for us to be successful."

Article content
You don't just replace a guy like Tanev, of course. He plays big minutes for the Flames and is a hugely critical part of their penalty kill, where he leads all players in ice time per-games-played this season. 
His impact goes beyond the ice, though, as Sutter explained.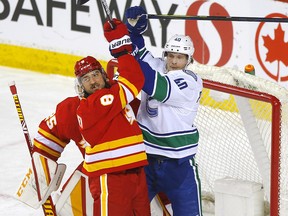 "(It's) not just the blue line, it's your locker room," the Flames head coach said. "Every coach has players like that where you know you don't need to say nothing and don't need to react, those guys take care of it." 
It would be hard to overstate just how important Tanev is to what the Flames try to do on a night-to-night basis. 
So far this season, Tanev has been out of the lineup for eight games. The Flames have won only one of them.

Fortunately, they'll be facing a beatable Chicago Blackhawks team on Thursday at the Scotiabank Saddledome. Friday's matchup against the Kraken in Seattle is a lot tougher, of course, and for a team that's right in the thick of a crowded Western Conference playoff race, there's very little room for error. 
Article content
The extended all-star break will provide some relief, though. This could be a lot worse.  
The rest of the defence just needs to step up. 
"Obviously, I've had the chance to play with Z a little bit, so we're familiar," Weegar said. "Seeing Tanny go down is a tough loss, everyone's got to pick up a little more leadership and defending and checking a little better. These are huge games, they're crucial, we can't afford to take any time off. 
"(Tanev) is a huge leader in the dressing room. He's a warrior out there and I think he leads by example. Not having him it hurts us, so we have to pick up our game a little bit and defend better."
'Remember the structure' 
Sutter was asked about how Weegar and Zadorov complement each other as a pairing, and he provided some interesting insight. 
"Zadorov and MacKenzie, they're really good competitors, they just have to remember the structure of the game," Sutter said. "That's a really big part of it. Even those guys are in their 20s, it's time, score, situations. All those things are really important, right? A lot of times those guys are such good competitors that they can get away from that, from the details in their game. 
"There's a reason defencemen are called defencemen. It's a position." 
daustin@postmedia.com