Article content
Calgary's top cop Mark Neufeld says we are tolerating too much disorder in the city.
Article content
He said those words weeks ago and I'm assured he would say those words again today.
Article content
And he's right.
"Our level of tolerance for all kinds of behaviours is too high. We just can't tolerate everything.
"I think when you talk to business owners and other people in Calgary, they've had it up to here. That's understandable with some of the things we're seeing."
An announcement is expected early next week.
It is Calgary's turn to get a few more boots on the ground. The dotting of the i's and the crossing of the t's is happening as we speak.
The news is said to be similar to what we saw in Edmonton where a dozen Alberta sheriffs will work alongside city police in the capital's inner core, helping to deter and respond to crime and social disorder.
Article content
The arrangement will be tried out for 15 weeks.
Something has to happen. Something's got to give.
Social disorder is more than a term in some criminology textbook. And random acts of violence scare the hell out of everybody.
Call the move a Band-Aid solution but when you're bleeding a Band-Aid is better than no Band-Aid.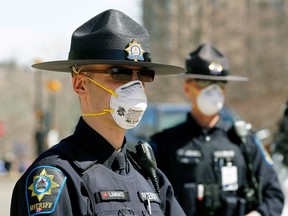 Neufeld knows the scene. He goes out in the community and people tell him they want more police, not fewer uniforms.
Certain spots in the city are a mess.
There are individuals on drugs who need to get into treatment pronto.
There are criminals who turn people into victims, including the vulnerable.
The top cop speaks of individuals overdosing as many as four times a day and "playing Russian roulette with their lives."
Article content
There are those who are a danger to themselves. There are those who are also a danger to others.
There are people seeing ambulances every day, seeing cops every day.
In certain places, from CTrain stations to city neighbourhoods, people roam around, behaving erratically, causing Calgarians to feel less safe.
Big brains are wrestling with exactly how to get folks off the streets and into rehab.
Some on the streets say they won't go to a shelter because they don't feel safe. This is a problem.
There is open-air drug use. There is what the city top cop calls "the illegitimate use of transit."
We know that movie.
What are we prepared to tolerate?
Still no word on bringing sheriffs to Calgary's downtown: city administration

Bell: Is Smith UCP tossing Calgary a lifeline out of social disorder?

Flare gun sets man on fire in wild brawl at Marlborough CTrain station
Article content
In my neck of the woods, if you go to the nearest convenience store, that's three blocks away and locked when it gets dark, you're liable to have to run the gauntlet through a seriously sketchy crowd.
Talk to the clerk. He rolls his eyes and tells you he can't do anything.
Go a further four blocks to the next convenience store, the same deal.
Talk to the clerk. He shrugs his shoulders and says you're right, it is crazy.
Then, about 10 blocks further, there's a convenience store where you're not looking over your shoulder or checking your jacket pockets.
Talk to the clerk. He says with a smile: "You're safe here."
Yes, it is true there is a coffee shop in the downtown with a drink on the menu known as the Stabtown Special. Someone has a taste for gallows humour.
Article content
Yes, you can wake up in the middle of the night and you don't hear the whistle of a train but a guy screaming while he's smashing his fist into a tree until his hand looks like ground beef.
A wake-up call of a very different sort.
Neufeld has brought up the video of the flare gun setting a guy on fire in a brawl at Marlborough CTrain station.
"That was madness," says the chief.
He has officers leaving the inner city beat. Why?
"It's just going to the same movie day after day after day and actually not seeing a result."
Neufeld says it's not as easy as doing the Dirty Harry routine and dropping the hammer on the chaos.
"There are a lot of people who have oversimplified the issue of disorder and the struggles we see in our downtown."
The police chief, who sees himself as "blue collar and no-nonsense," says he understands Calgarians are fed up.
He admits the system hasn't done a good enough job but adds the police are going after lots of crime.
The man has hope, with everyone in authority at least agreeing the way things are is not an option.
"I think we're on the cusp of something good. I think we're going in a good direction. I think we're going to clean up our city."
rbell@postmedia.com