As it turned out, the idea of Crosby as the sperm donor came from his wife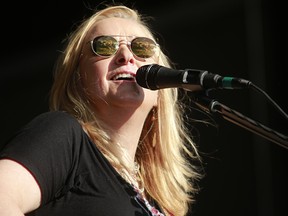 Reviews and recommendations are unbiased and products are independently selected. Postmedia may earn an affiliate commission from purchases made through links on this page.
Article content
It started as a question turned rumour turned joke that got out of hand: Who was the father of Melissa Etheridge's two children?
Article content
By 2000, the Grammy-winning musician had faced intense speculation over who had donated sperm for her and her partner Julie Cypher to have two children, born in 1997 and 1998.
Article content
Was it Brad Pitt? Tom Hanks?
Etheridge joked to David Letterman on his show that the late-night host had been on the shortlist — before deadpanning that the man who helped the lesbian couple conceive was none other than conservative former vice president Dan Quayle.
Article content
The real answer came on the cover of the February 2000 issue of Rolling Stone, accompanied by a headline exclusive – "Melissa's Secret" – and a photo of a leather-clad Etheridge with her family and musician David Crosby. Rounding out the photo of "the new American family" was Jan Dance, Crosby's wife. (Etheridge and Cypher split up later that year, according to news outlets citing a statement from Etheridge's record label.)
As it turned out, the idea of Crosby as the sperm donor came from Dance.
After Crosby's death last week at age 81, Etheridge paid tribute to him, tweeting, "He gave me the gift of family. I will forever be grateful to him," and thanking his family.
Article content
Crosby was the biological father of Etheridge and Cypher's two children, son Beckett and daughter Bailey Jean. Beckett Cypher died of an opioid overdose in 2020 at age 21, according to USA Today.
The revelation was a shock. Though Crosby and Etheridge were both musicians, they didn't have a close working relationship, live near each other or even come from the same generation.
The two couples met in the mid-1990s while vacationing separately in Hawaii, where Cypher noticed Crosby's son Django – just months old at the time – and mentioned how she and Etheridge were planning to have children, she recalled in a 2000 interview on "Larry King Live" conducted alongside Etheridge, Crosby and Dance.
"It just came out of Jan's mouth," said Cypher, a film director who would carry the children. "She's the one that volunteered David. She said, 'What about David?'"
Article content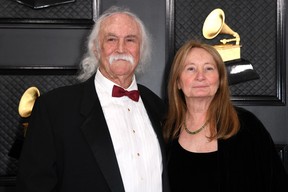 Dance, during the interview, acknowledged she hadn't known the couple long but said she felt "called" to help them build their family.
"It just fell out of my lips," Dance said, adding, "They were talking about this, and I had my, you know, 5-month-old son on my chest, and I saw a longing in them and a love, and I knew that it was deep and that it was pure and true."
Crosby said he wasn't surprised by his wife's reaction and recalled being similarly moved by the connection between Etheridge and Cypher. Crosby, a Laurel Canyon hippie who embraced his countercultural roots, told Rolling Stone that he was happy to play a role in helping people see that gay families were "not something strange."
"I think everyone will understand, except maybe the Christian Coalition and the far right wing," Crosby told the magazine. "But, I mean, I always wanted to be on the Nixon enemies list and I missed it. So if I p— off these people, it's fine with me."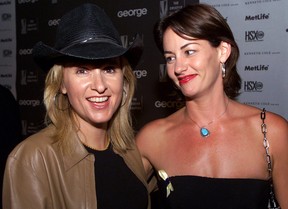 After Etheridge and Cypher welcomed Beckett in 1997 and Bailey Jean in 1998, Crosby deferred to the mothers' wishes that their sperm donor's identity remain private until they were ready to reveal it.
The mothers didn't keep the identity from their children. When Bailey Jean asked who her father was, Cypher told King she would say: "You know our friend David with the funny mustache? . . . That's your daddy."