Maggie and Lynne Brochu have developed an easy-to-navigate online directory of health and wellness providers in the province.
Article content
Businesses and non-profit organizations regularly open and move in Saskatoon. Today the StarPhoenix talks to Lynne Brochu and her mother Maggie Brochu, who have been busy perfecting The Lit Garden: Virtual Wellness Shop, which is a new Saskatchewan-wide online directory where people can find health and wellness practitioners. Originally, they started online just for Moose Jaw, but came to realize their focus was too small, so they spent a lot of time developing their directory for all of Saskatchewan.
Article content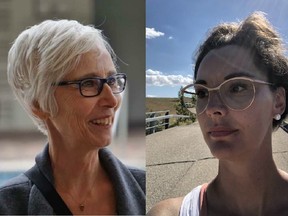 Article content
Q: What is The Lit Garden?
Lynne Brochu: The Lit Garden: Virtual Wellness Shop is essentially an online 24/7, 365 days a year wellness trade show for all of Saskatchewan. Think of us as a high-quality online directory, except better. We offer a virtual shopping mall filled with wonderful locally owned health and wellness partners.
Q: Why did you create this wellness shop for Saskatchewan?
Maggie Brochu: When I was a receptionist at a wellness place, people would come in and say, do you know somebody who does massage, or do you know somebody that would do reflexology, etc., and I didn't know. Then when you Google you find someone way out in Ontario or something, and nothing close by. So there was a need for it.
LB: As people who wanted to shop for our own wellness options in the province, we were finding Googling to be painful. There were so many old directories or websites for things that just weren't maintained, that were very outdated without any video or social links or any of the need to know information. We were quite frustrated trying to navigate that ourselves and that's really what we focused on is just to solve all of the problems that we were finding.
Article content
We also wanted to help health and wellness entrepreneurs like ourselves. It's really hard to get the online presence to have people know what you do and what your services are. So we really wanted to help promote them and get them out there, get their marketing and online presence where it needs to be so they all have success today.
Q: What kind of experience can a user expect?
LB: We really want to be able to just be a tool to help shoppers drive their own wellness journey. Some of the big things we focused on were the user's experience. We wanted everything to be right there for them in one place. Within a few clicks, you know all you need to know.
We focused on improving our searchability within the directory itself. You can search keywords such as 'online'. If you type that in, all of that partners that we have that offer online services will pop up. You can also search a city if you're interested. If you're interested in a person you can search that. Besides the search bar we also have a bunch of different categories. If for example, you were interested in meditation, you can search that category as well.
Article content
Q: How did you decide on the name, The Lit Garden?
LB: I had this light bulb of an idea a couple years ago. I was at quite a pivot time in my life from leaving a store front business I operated to moving it online quickly. It was just so difficult and so time-consuming and it was hard to tell if we were even getting our message out there and whether any of it was even working. And then, quite honestly, I just had a bit of a revelation in meditation. I saw basically what our logo is today for The Lit Garden and I had this idea how we can work together and solve a lot of these problems. Anyone (who works) in wellness in Saskatchewan, anyone interested in that, we're all very much light or 'lit' workers. We bring light and to we try to make a lit Saskatchewan, a community of well people.
Article content
MB: If I can add a little bit about the garden aspect — in the garden, you grow. And that's kind of what I would like for Saskatchewan too, is to grow into wellness. A lot of us don't feel well, and we want to feel better.
Q: What are each of your backgrounds in wellness?
MB: I was an elementary school teacher. I retired from that and I had some health concerns and because of that I wanted to get into touch healing so I could feel better. That's where I got started in Reiki and did all my courses so I can teach it as a Usui Reiki Master Teacher. I'm just all for wellness. Along with my Reiki business, I also have Bach Flower Remedies, which help with emotions.
LB: Right out of high school, I was six years at the University of Saskatchewan in kinesiology and physical therapy, and graduated with a Bachelor of Science in physical therapy in 2006. I remained in the physio career until 2020, right when the pandemic hit, and then very quickly transitioned into a more holistic model of physical therapy as an online wellness coach and energy healer. I also teach meditation classes, and still am very much about helping people get well, just using different techniques than I did as a physical therapist.
Article content
Between Maggie and I, we've been in the wellness industry in Saskatchewan for about 35 years, so we definitely know what that's like and that's a big part of the reason that we developed The Lit Garden as well, to support wellness entrepreneurs in the province.
Q: How do you choose the wellness partners for your website? 
LB: I would say we're very open and we're very inclusive. Really, our requirement is that you be an accountable, impeccable, trustworthy business owner offering a wellness product or service. Right now we're interested in securing as many partners as possible. We're trying to fill up our trade show, so to speak, so that when shoppers are browsing all of our partners booths online, they have an abundance of choices. We will be asking shoppers to nominate partners as well, anyone they've had an exceptional customer service experience with we would ask them to nominate and we would love to have them on board as well.
Article content
This interview has been edited and condensed
The Lit Garden: Virtual Wellness Shop
Owners: Lynne Brochu and Maggie Brochu
Email: hello@thelitgarden.ca
Website: thelitgarden.ca
Facebook: Facebook.com/TheLitGarden
Instagram: instagram.com/the.lit.garden
YouTube: youtube.com/@thelitgarden
Have you recently started or moved a new business or non-profit organization in Saskatoon? We want to hear your story. Please email drice@postmedia.com
New pricing model at Procido LLP provides cost certainty to legal clients

Hub City Kennel & Obedience Club new location allows more opportunities for dog classes and other services

The Cheese List brings unique cheeses to Saskatoon

Canadian restaurant chain Guac Mexi Grill opens first Saskatoon location
The news seems to be flying at us faster all the time. From COVID-19 updates to politics and crime and everything in between, it can be hard to keep up. With that in mind, the Saskatoon StarPhoenix has created an Afternoon Headlines newsletter that can be delivered daily to your inbox to help make sure you are up to date with the most vital news of the day. Click here to subscribe.