Article content
Milan Lucic didn't make a decision to start fighting again.
Article content
It just looks that way.
Article content
After going the first 43 games of his 2022-23 regular season without dropping the gloves for a proper tilt, the Calgary Flames tough guy has made up for lost time the last couple of contests.
First, there was a solid little scrap against the Tampa Bay Lightning's Ian Cole on Saturday afternoon.
Article content
Then, on Monday, Lucic decided to drop them again and deliver some proper haymakers against the Columbus Blue Jackets' Mathieu Olivier.
Unless anyone was wondering whether Lucic could still throw down with the best of 'em, the answer is an emphatic yes.
But he swears there was no conscious decision involved.
"They're kind of spur-of-the-moment things," Lucic said Tuesday from the Deerfoot Inn and Casino, where the Flames were hosting their annual Ambassadors' Celebrity Poker Tournament. "I've never really been like 'OK, I'm not going to fight tonight' or 'OK, I am going to fight tonight.'
Article content
"They're spur of the moment, that's the only way I can explain it."
Lucic has notoriously been one of the NHL's toughest fighters for roughly the past decade-and-a-half, so it was never really a debate whether he was still ready to toss hands if he was called on this season. This is a guy with 85 career fights to his name, according to the website hockeyfights.com, which does a pretty good job tracking these things.
The opportunities just haven't really popped up until the last couple of games.
The right dance partner needed to make himself available, and the right in-game situation needed to present itself.
Lucic is, after all, currently being tasked with playing on the Flames' second line alongside Nazem Kadri and Jonathan Huberdeau. His role isn't simply to go out there and beat up guys.
Article content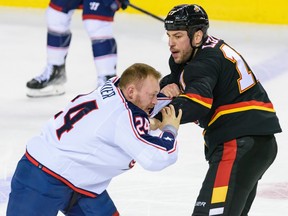 It just so happened that the juices were flowing these past couple of games. The stars aligned and suddenly Lucic was delivering big right hands to an opponent who was equally intent on punching him right back in the face.
"It's just one of those things that kind of happened," Lucic said. "It's just the emotions of the game and getting into it that way. That's basically it."
In the case of both fights, the Scotiabank Saddledome crowd rose to its feet, as they've always done whenever Lucic drops the mits.
His teammates felt it, too, with Dillon Dube – who scored the overtime game-winner against the Blue Jackets on Monday night – crediting Lucic for providing a badly needed blast of emotion and energy in the second period.
Article content
"I think we let our foot off the gas a bit and in the second then Looch fired up the building, for sure," Dube said.
Lucic is obviously aware of the boost that one of his fights can bring.
In the moment, though, he insisted it's not what he's thinking about.
The roar of the crowd is a motivator in a lot of situations, but when you're facing down an angry opponent who is laser-focused on smacking you across the cheek, all the outside noise tends to fade into the background pretty quickly.
"It's obviously awesome when the fans get into it and you hear it, but when you're in the moment, you can't really hear what's going on, you're just focused on the fight," Lucic said. "For both of them, I think it was an energy thing and an emotion thing."
daustin@postmedia.com