Article content
Dan Vladar's stall is tucked in the corner of the home locker-room at the Saddledome.
Article content
Right above his head, a vent steadily blows warm air — as unrelenting as the boos for Johnny Gaudreau the other night.
Article content
"It's bad during intermissions, but otherwise it's nice," Vladar grinned. "But in intermissions … It's so hot, right? You can't cool down."
Maybe that's the secret.
These days, it seems like nothing can cool off Vladar, who continues to challenge his status as the Calgary Flames' second-string goalie and is now on the brink of equalling a longstanding franchise record.
Article content
The 25-year-old has backstopped the Flames to at least a point in each of his past dozen decisions, with a 9-0-3 record over that superb stretch. The longest such spree in club history is 13 straight, a standard that was initially set by Mike Vernon in 1988-89 and matched by Brian Elliott in 2016-17.
Article content
With a back-to-back set on the horizon, Vladar should get a shot at joining them before the boys split for their bye/all-star break — either in Thursday's clash against the Chicago Blackhawks (7 p.m. MT, Sportsnet West/Sportsnet 960 The Fan) or Friday's crucial divisional date with the Kraken in Seattle.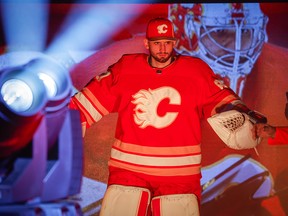 "Obviously, it's good, but I'm not trying to focus on those stats," Vladar said. "I'm just taking every game as a brand-new opportunity to get a point or get those two points. For me, I'm not thinking that I want to be going on a streak. I just want to play hockey. I just want to win and do my best, and that's all I'm really focused on.
"I don't think Columbus really cares or if it's Chicago, I don't think they care if I'm on a streak or not. For me, every game is a new game, and I just have to perform the best I can and do everything I can to get a W."
Article content
More often than not, he's been doing just that.
Overtime thriller spoils Gaudreau's return to Dome

Markstrom, Vladar have meshed as Flames' crease counterparts

On a back-to-back night, Dan Vladar gave Flames exactly what they needed
Thanks to a 22-save showing — his stat-sheet featured five stops on Gaudreau — during Monday's 4-3 overtime triumph against the Blue Jackets, Vladar improved to 10-4-4 on the season. His last regulation loss came Nov. 26. Yeah, two months ago.
"You can see just the maturity in his game ever since we got him," said Flames goaltending coach Jason LaBarbera of Vladar, acquired via trade in the summer of 2021. "The things that we've been talking about since Day 1, you could see the progression last year and it has carried over into this season. You can see how his game has evolved.
Article content
"He's getting a chance to play games and he's taking advantage of it, and you have to give him credit."
While it might be a stretch to characterize this as a crease controversy, it's no longer as simple as showing up at the Saddledome with the assumption that Jacob Markstrom will be between the pipes for the home-side.
Markstrom, fresh off his runner-up finish in Vezina Trophy voting, hasn't been getting enough run support from his pals. That's the truth. For whatever reason, the Flames do more lamp-lighting when No. 80 is tending the twine.
Thing is, Markstrom hasn't been getting the results, either. Calgary's usual starter has posted a 5-7-3 record during Vladar's current point-spree. While that's not all on Markstrom, who actually owns a slightly lower goals-against average over that span, it does bolster the case for his sidekick to see more action as the playoff race intensifies.
Article content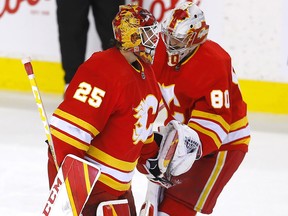 "I'm literally just doing my job," Vladar stressed. "I'm not thinking about the first, second, third goalie thing. I'm literally just doing my job and that's all I can control. If the coaches make a decision that I'm playing, I'm doing my best. If they don't, I'm supporting Marky.
"That's the culture of our team, and I think that's what makes us a good group. Even players, when they don't play, they're cheering for each other. If the guy who is in instead of them scores, they are happy for him. That's the beauty of this group."
Vladar is one of those guys who is easy to root for.
He arrived in Calgary as a relative unknown, an intriguing on-the-cusper with only a handful of NHL appearances on his resume.
Now settled at the Saddledome, now with a chance to leave his name in the franchise record books, his confidence continues to blossom.
"I think everyone thinks they can play. I don't think they know they can. I think there's a big difference," said LaBarbera, an expert on such matters thanks to his lengthy career as an NHL backup. "I think we all think we can play at this level, but we don't know. And until you're put in those situations … I think he's starting to realize now, he knows that he's a full-time NHL guy and he could be grasping the ceiling of being a top guy in the league. He still has a ways to go, obviously. He's just sort of scratching the surface."
wgilbertson@postmedia.com
Twitter.com/WesGilbertson