MPs scored a small victory on human rights last week, but the government keeps ducking anything that gets in the way of the warm relationship the prime minister wants with Beijing.
Article content
It was a peculiar exchange that betrayed quite a bit about the Trudeau government's entanglements with Beijing's various friends and interlocutors in Canada, and it was doubly awkward, coming at a time when the Liberal government is trying to give the appearance of acting on what it claims to stand for in the matter of refugees, the global traffic in slave goods, and Chinese leader Xi Jinping's sadistic throttling of democratic life in Hong Kong.
Article content
It occurred during a meeting of the Special Committee on Canada-China Relations, when Public Safety Minister Marco Mendicino was being pressed about his government's apparent reluctance, going back some years now, to establish a Foreign Agents Registry to deal with Beijing's influence-peddling and strong-arm operations in this country.
Article content
"There is an intention to begin consultations on the possibility of creating such an initiative," Mendicino said. "But before we do that we have to be sure that Canadians understand why it is that we are looking to modernize our toolkit when it comes to protecting against foreign interference, and that means bringing them along, that means engendering trust, that means making sure that the appropriate accountability mechanisms are in place, so that we raise the bar when it comes to transparency."
Article content
Quite the mouthful. And that was just part of what Mendicino described as his "short answer." He added the government's national security and intelligence agencies need to be "inclusive, diverse, culturally sensitive, so that Canadians can have trust and confidence that as we are taking actions to mitigate against the threats to national security, that they believe that we are consistently going to act in the national interest."
It was almost as though Mendicino was about to propose "equity-seeking group" status for the Overseas Chinese Affairs Office and the United Front Work Department — two shadowy Chinese agencies that are active in Canada and loom large in the fears of any Chinese immigrant who defies Beijing's determination to mobilize Chinese-Canadians as in-country assets of the Chinese Communist Party.
Article content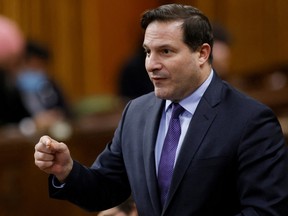 New Democrat Heather McPherson could barely contain her exasperation. Chinese diaspora communities have been demanding protection from Beijing's Canadian proxies for a long, long time, she said. "We're looking at transnational repression … We've had impacted communities telling us that this is a very big problem for a very long time," she said. "Impacted communities don't feel like they're protected. They don't feel like they're being heard."
Michael Chong, the Conservatives' shadow foreign affairs minister, peppered Mendicino to little avail about why the government hasn't been more forthcoming about reports that Beijing's Toronto consulate funded an election-interference network during the 2019 election that reached into a circle of 11 candidates in the Greater Toronto Area.
Article content
Separately, former diplomat Charles Burton told the House Affairs committee on Tuesday that Steveston–Richmond East Conservative MP Kenny Chiu very likely lost his seat in the 2021 elections because of a massive Beijing-directed disinformation campaign. Paradoxically, the operation, carried out mainly on Chinese-language social media platforms, centred on Chiu's sponsorship of a bill that would have created a foreign-agents registry after the example of the United States and Australia.
So there was all that, and it followed on last week's unanimous House of Commons vote in favour of a motion brought by Liberal backbencher Sameer Zuberi calling on the government to resettle 10,000 Uyghur refugees in Canada. As many as two million people from the Turkic Muslim minority in China's vast Xinjiang region have been herded into work camps and re-education centres. Xinjiang has been turned into a dystopian surveillance state, and tens of thousands of Uyghurs live in self-imposed, precarious exile in countries around the world.
Article content
Zuberi's motion forced the Trudeau government's hand on the issue. Last week's vote was the first time Prime Minister Justin Trudeau and his cabinet have voted on anything related to the Uyghurs, Zuberi pointed out. While the motion is non-binding, Zuberi says he's confident that the resettlement plan will be adopted and carried out.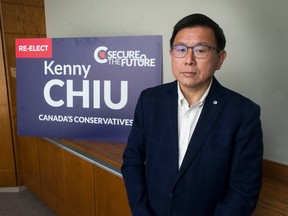 In keeping with its policy of avoiding anything that would get in the way of the warm economic and "people to people" relationship the Trudeau government has tried to cultivate with Beijing, Trudeau and his cabinet absented themselves from the House of Commons two years ago when the House voted unanimously to declare that the persecution of the Uyghurs constituted genocide. But it's not only Team Trudeau that prefers to avoid doing anything that the Xi regime might construe as impudence.
Article content
Last week's vote was unanimous, but Liberal MPs Han Dong and Shaun Chen were joined by New Democrats Don Davies and Niki Ashton in ducking the vote. All four are on friendly terms with Chinese diplomats. Similarly, Dong, Chen, Davies and Ashton joined with the Trudeau cabinet in absenting themselves from the 2021 Uyghur genocide motion.
In 2020, Ashton, Davies and fellow New Democrat Leah Gazan broke ranks and abstained from an Opposition motion calling on the government to follow the lead of Canada's Five Eyes intelligence-sharing partners and block Huawei Technologies from participation in Canada's 5G internet connectivity rollout. The motion also slammed the government for failing to treat Beijing's influence operations in Canada as a key threat to national security.
Article content
While the Trudeau government presents itself as a "world stage" champion of the marginalized and exploited, an order-paper question put to the Canada Border Services Agency about forced-labour goods entering Canadian markets elicited this response last week: "From January 1, 2016 to December 12, 2022, the CBSA has not intercepted or seized any goods made using forced Uyghur labour in China."
In contrast, within three months of a new U.S. law adopted last June aimed specifically at blocking forced-labour goods from Xinjiang, U.S. Customs had blocked 1,452 shipments of cargo worth about $429 million.
Under the terms of the renegotiated North American free-trade pact, Canada was obliged to agree to a law blocking forced-labour goods from entering the country. It is only now that an effort going back several years is making its way through Parliament.
Article content
The bill is expected to pass third reading within days, coming into effect in May, 2024. Unlike the U.S. law, Canada's rules would require only that companies show they have made efforts to ensure their supply chains haven't been tainted. The law also applies only to companies listed on a Canadian stock exchange with at least $20 million in assets, $40 million in revenue and an average payroll of at least 250 employees.
Also unlike the United States, Canada has imposed no sanctions on any Chinese entity or official involved in the ongoing evisceration of Hong Kong's autonomy. Earlier this week, Immigration Minister Sean Fraser announced that a temporary work program that was to expire Tuesday will be extended for two years, and Hongkongers who have gained a post-secondary degree within the last 10 years will be eligible, raising the limit from five years.
Article content
In Hong Kong, meanwhile, a sedition trial of 16 democracy leaders began on Monday, the largest national security prosecution to-date. Another 31 people in the case have pleaded guilty. The 47 activists were charged with the crime of participating in democratic primary elections three years ago, in an attempt to build a common front to break through the city-state's rigged electoral system.
Almost every prominent figure in Hong Kong's massive 2019-2020 pro-democracy protests is now on trial, in jail or in exile.
Terry Glavin is an author and journalist.
RCMP sent 'disruption' to Chinese police stations in Canada, Lucki tells MPs

Former Canadian envoys to China urge federal government to launch foreign agent registry