Article content
If parents want to point out to their children role models of ethical behaviour in public life, they should bypass the prime minister of Canada, the premier of Ontario and the mayor (for now) of Toronto.
Article content
Prime Minister Justin Trudeau has twice violated the federal conflict of interest act.
Article content
The first time was for accepting free vacations while his government was considering giving millions of dollars to the gifter's charitable foundation, in the Aga Khan affair.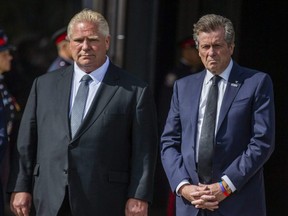 The second time was for improperly pressuring the then attorney general to drop criminal charges against a powerful company in Trudeau's home province of Quebec, in the SNC-Lavalin scandal.
Trudeau narrowly escaped censure in the WE Charity fiasco only because, in the words of conflict of interest and ethics commissioner Mario Dion, the law's poor wording doesn't cover apparent conflicts of interest.
This week, Dion ruled Trudeau's parliamentary secretary, Quebec MP Greg Fergus, violated the act by writing a letter to the CRTC supporting the granting of a mandatory carriage licence to a small Quebec television company.
Article content
In December, he found International Trade Minister Mary Ng violated the act when she twice awarded government contracts to a friend.
Dion, who also announced his retirement due to health reasons two years before his term is up, told the National Post he is recommending mandatory ethics training for all senior government politicians.
Meanwhile in Toronto, Mayor John Tory announced his resignation Friday, after the Toronto Star revealed details about his months-long extramarital affair with a junior staff member in his office, who has since left his employ for a job in the private sector.
Because he was her boss and she accompanied him on numerous political trips, Tory's actions in what he describes as a consensual relationship raise potential concerns about abuse of office, misuse of public funds, conflict of interest and violation of the city's code of conduct for city councillors.
Article content
Following the announcement of his resignation, Tory said he will remain as mayor until his 2023 city budget is approved.
Finally, Ontario Premier Doug Ford is enmeshed in a controversy and his government in multiple investigations about whether developers — including friends of the premier — were given insider information about what lands would be opened up for housing development.
(Ford's housing minister Steven Clark, is under investigation by the province's integrity commissioner, J. David Wake, on this issue, not the premier. Clark has said he looks forward to being cleared.)
The controversy developed after Ford reversed his previous policy of banning development in an environmentally protected area known as the Greenbelt, that began under the previous Liberal government.
Article content
Ford had initially favoured opening up the Greenbelt to development in 2018, reversed his stand in the face of strong public opposition, and then reversed himself again last year.
LILLEY: Is John Tory really going to resign as mayor or is he dithering?

If 'lefty' mayor elected in Toronto it would be a 'disaster': Doug Ford

LILLEY: Trudeau government turns to secrecy after $6G-per-night hotel fiasco

Liberal MP Greg Fergus breached Conflict of Interest Act, watchdog rules
Ford is also under fire over the fact developers, whom he describes as friends and some of whom have benefited from his government's decisions and are donators to the Progressive Conservative party, attended his daughter's fundraising, $150-per-ticket "stag and doe" party held at Ford's house last year, and also attended his daughter's wedding.
Ford described media questioning about this as "ridiculous" calling it a private matter and noting the integrity commissioner cleared him of wrongdoing about the stag and doe party.
The integrity commission office said it based that opinion on what Ford's office told it had transpired, after the fact, and did not conduct an independent investigation.