Article content
Old detectives are haunted by the killers who got away, the cases that went unsolved.
Article content
Such was the sad case of nine-year-old Sharin Morningstar Keenan who was abducted from a Brunswick Ave. park on Jan. 23, 1983. A week later she was discovered murdered and sexually assaulted in a freezer in a nearby boarding house.
Article content
The 40th anniversary of Sharin's murder came and went without anyone besides her family noticing.
It remains a case that has haunted cops and the city for decades.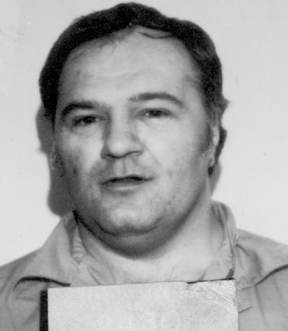 The bogeyman was a convicted sex offender named Dennis Melvin Howe, 43 at the time of the murder. Howe seemed to vanish into thin air despite little cash, few friends and fewer resources.
Armchair detectives and real homicide cops have wrestled over what happened to him for years.
There is one answer that some old cops will tell you in hushed tones.
Article content
Dennis Melvin Howe never made it out of Ontario alive.
"The story goes that he was grabbed by cops before he left Toronto," one longtime investigator told me. "He was grabbed, shoved in a car and then driven north. When they got far enough, they drove down a side road, marched him out of the car and blew his brains out.
"Then they buried him deep in the woods where he'd never be found."
The head of the Toronto Police cold case unit, Det. Sgt. Steve Smith, said that he has heard the "urban legend" of Howe's demise but told the Toronto Sun there has "never been anything to corroborate that theory."
Legend or not, homicide detectives have never forgotten Howe, who would be 82-years-old if still alive.
"Even 40 years on, we're still investigating the whereabouts of Mr. Howe," Smith said. "We've received tips from all over North America. We have his DNA but we have yet to get a confirmation and still have been unable to determine his whereabouts.
Article content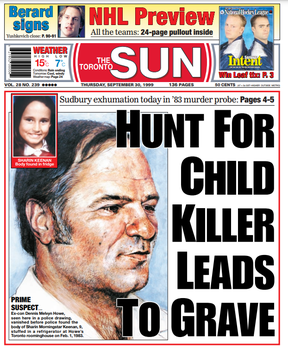 "Or whether he's alive or deceased."
Smith added that he has no idea what happened to Howe but wishes he did.
"Even over the past year, we've received DNA from 10 different people submitted to us from other jurisdictions but none have come back to Dennis Melvin Howe," the detective said, adding that cops around the continent are still on the lookout for the elusive killer.
Originally from Saskatchewan, investigators have long believed that Howe may have received help from his family.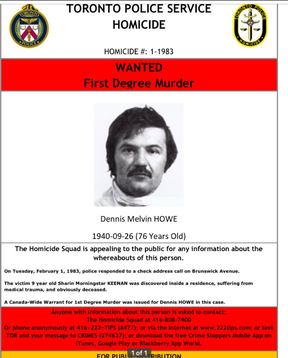 Following the murder, the chain-smoking killer who called all and sundry "turkey", reportedly got on a bus headed west. He did have a one-week head start on the cops so that tosses cold water on the theory he was whacked by Toronto cops.
Article content
And people who had dealings with the sicko, by turns a quiet loner and at others, a braggart, hinted that Howe was a master con artist and adept at changing his look.
But how did he curb the vile impulses that caused him to murder? A child sex slaying is seldom a one-off.
In Quentin Tarantino's masterpiece, Once Upon a Time in Hollywood, the director reimagines the blood-soaked events of August 1969 when Charles Manson and his family slaughtered innocents like actress Sharon Tate.
Instead, Brad Pitt pulverizes the cult members. An oddly happy ending.
Maybe the idea of Dennis Melvin Howe's brains splattered all over the floor of a boreal forest will be the only solace we ever get.
Even if it isn't true. Or maybe it is.
If you have any information on Dennis Melvin Howe, contact the Toronto Police homicide unit at 416-804-7400.
bhunter@postmedia.com
@HunterTOSun