Turnaround costs for vacant units can range from $5,000 to $20,000 depending on damage, said SHC president Louise Michaud.
Article content
The Ministry of Social Services offered a look into the process of prepping a vacant housing unit for occupancy, with a recent sample tour of vacant social housing units in Regina.
Article content
The tour included two family units, both multi-level houses in the North Central neighbourhood, and two senior units in an apartment building downtown.
Article content
Of each unit type, one was in a rent-ready state, available for immediate move-in, and the other in a non-rent ready state, as left by the tenant when they vacated, to offer a "cross-section" of conditions.
"We want people to know that we do have units available," said Louise Michaud, Assistant Deputy Minister of Housing and president of the Saskatchewan Housing Corporation, as she led the tour for media.
After a vacant house exploded earlier this fall, the Ministry of Social Services disclosed that there are 700 vacant housing units in Regina, of a total 3,000. Province-wide, approximately 19 per cent of 18,000 units are currently empty.
Article content
Michaud said the SHC is "absolutely concerned" about the current vacancy rate, adding that some units are empty because they aren't rental ready.
"We're working on different ways to address the vacancy rate," she said. "We work hard to get those rent ready and prioritize the units where the demand is highest."
Murray Mandryk: Vacant housing units amid homeless crisis unfathomable

Sask. mayors call on province for more concrete action to address affordable housing vacancies

'We can't fund them all:' Minister faces heat over affordable housing in Sask.
As Michaud explained, an empty unit typically requires, at minimum, cleaning, furniture removal and cosmetic repairs like fresh paint, flooring fixes, and repairs to doors and cabinets.
Article content
Vacated units left with more significant damage, however, up the effort it takes to return them to a livable state. This means more involved work like structural repairs, plumbing replacements and maintenance to appliances, furnaces and water heaters.
In a unit with this extent of damage, repair costs can reach as high as $20,000 and take several months to turn around.
"This is why you often see that we have houses that are vacant but not rent-ready yet. It takes time," said Michaud.
For units with a moderate level of repairs, estimates drop to an average cost of $5,000 to $7,000 and a turnaround of a few weeks.
Around 30 per cent of units are left with a higher level of damage, said Michaud. This is often due to vandalism that happens after a tenant has moved out, she added, not before.
Article content
Break-ins are extremely common with vacant units, and removing copper pipes is the most common reason as of late.
"Anecdotally, its unfortunately been approximately one or two (break-ins) a week, in Regina, on average," Michaud said.
Social housing units are insured, but no estimate on losses related to break-in or vandalism could be provided, as the ministry doesn't track damages that way.
Michaud said regardless, it is SHC that swallows any elevated costs due to significant damage. For 2022, the corporation budgeted $2.3M in 2022 for turnaround work, which includes repairs costs for both typical and atypical damages.
"We do work with tenants, to help them understand what their responsibilities are," Michaud said. "And, as with any landlord, sometimes damage happens and we deal with it when it does."
Article content
External inspections of vacant units happen twice a week, but Michaud said the ultimate solution to prevent vandalism would be to fill those units with tenants.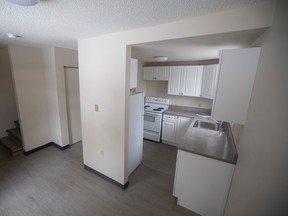 An average wait time for placement is ideally within a couple of weeks, but there are a variety of elements that affect that process, including tenants' preferences on unit type, neighbourhood and more.
Partnerships with non-government groups such as Phoenix Residential Society are leveraging empty units and offering them as supportive housing options.
A successful roommate pilot project is another part of the push to cut down on vacancies, where select units are made available and rent is set at a portion of market rate, rather than the usual income-based calculation.
Article content
It opens options for tenants, said Michaud, allowing more flexibility for living situations.
The pilot launched at the end of 2021, with ten units in Regina that filled immediately. SHC is looking now to expand the program, with more units and into other communities.
"What we're trying to do is offer housing to people who need that little extra help to live independently, and to coordinate those services for them," Michaud said. "Often, people need wraparound services and that's our challenge right now."
lkurz@postmedia.com
The news seems to be flying at us faster all the time. From COVID-19 updates to politics and crime and everything in between, it can be hard to keep up. With that in mind, the Regina Leader-Post has created an Afternoon Headlines newsletter that can be delivered daily to your inbox to help make sure you are up to date with the most vital news of the day. Click here to subscribe.