Reviews and recommendations are unbiased and products are independently selected. Postmedia may earn an affiliate commission from purchases made through links on this page.
Article content
It was love at first bite.
Article content
That's all it took for Genevieve Parent to fall head over heels for Roberto Catervi after sampling his cuisine at Rome's Ristorante Moma, where he was a chef.
Article content
"She had a food tasting menu, and throughout the whole night the server was telling me there was this beautiful lady," Catervi recalled. "Apparently, Genevieve asked the server to offer a glass of wine to the chef.
"I came out. I met her and everything was whirlwind. We went around Rome, just me and her. And then she left."
Catervi followed his heart and travelled to Chelsea, Que., where Parent was working at the time. Not only did he fall in love with a woman, but with his surroundings as well.
He and his wife initially planned a fine-dining restaurant, but starting such a venture during the pandemic was not the best option, he said. The vision was to create food that was the same quality as fine dining, but can also be takeout and reheated easily.
Article content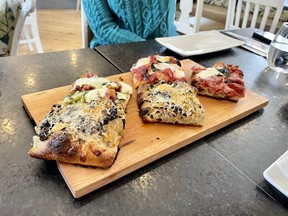 Their result is Roberto Pizza Romana (robertopizzaromana.lightspeedordering.com), which offers delectable square pizza with uniquely Italian flair. The love the couple shares for each other translates to their creations as Catervi said he wants everyone to enjoy each bite.
"Working as a chef is an act of love," he said. "You're serving others and making them happier. It's about making a memory like reminding them of something they ate as a kid, or something that gives you emotions about how good it is.
"It comes from the love (you put into the food) and gives love."
Hey, it worked for Parent.
"She later showed me the text she was sending her girlfriends," Catervi joked. "'The chef is single. He's coming back with me.' She didn't even see me yet. She didn't know me. She was already in love. For her, it was from the first bite."
Article content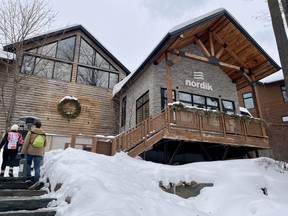 SPAS GALORE
"I can't feel my legs!"
That's what one brave soul screamed as they dipped their body into the frigid cold Devil's River for a hydrotherapy experience at Scandinave Spa (scandinave.com/mont-tremblant) in Mont-Tremblant.
Peace and quiet are emphasized at the spa, which boasts a blissful experience while clients pamper themselves and recharge their bodies. Patrons are encouraged to attend designated areas — whether it be springs, saunas or lounges — in order: Hot, cold then relaxation.
Another popular spa in Quebec is the Nordik Spa-Nature (chelsea.lenordik.com) in Chelsea, where many come to try out Kalla, an underground Epsom salt pool in which patrons can quite literally float their stress away.
Article content
Popular with visitors from all over, this spa heightens all the senses while you relax via its Thermal Experience, which features access to its various baths and saunas.
If you're looking to have a more enriching experience, it's worth it to book a massage or two while here. Afterwards, enjoy some excellent grub at the spa's restaurant.
WHAT TO DO
FAT BIKES — Riding a bicycle through snowy terrain may be challenging for some. But not if you're doing it on a fat bike.
Fat bikes are similar to traditional bicycles but with wider tires and deeper tread. For the bikes featured at D-Tour (dtourtremblant.com), a Mont-Tremblant-based company that provides guided tours, the fat bikes are electric with functions that give riders the extra boost they need to get up those hills.
Article content
Beginners or casual riders should stick to the regular trails. For those looking for adventure, try taking the fat bikes through the mountain bike trails. 
SKIING — A good thing about staying in and around the Laurentians is the abundance of ski hills. 
One just has to walk outside their hotel to find a ski hill. The Fairmont Tremblant, for instance, is a one-stop shop. All you have to do is head to the ski shop to get equipped and then venture out the door for the hills.
If you're a fan of cross-country skiing, you can trek across the various trails within Gatineau Park in Outaouais with a guide courtesy of Nomades du parc (nomadesduparc.com) in Chelsea.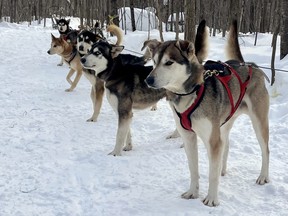 DOG SLEDDING — There's not a mode of transportation that's more steeped in Canadian history than dog sledding. 
Article content
While most prefer to travel across the winter tundra on snowmobiles or other vehicles, there's nothing more authentic than being pulled by a team of dogs. 
Tanwen Pack (tanwen.qc.ca) in Montpellier allows visitors to try out dog sledding via several kilometres of tracks on the property. After detailed instructions from operator Eric Pichette, you will be led by a team of four strong and speedy husky dogs. It's quite an adventure. Be sure to hang on tight for the ride of your life. 
WHERE TO STAY
FAIRMONT TREMBLANT – If you're looking for a ski getaway surrounded by the natural beauty of Mother Nature, the Fairmont Tremblant (fairmont.com/tremblant) is the place to stay.
Situated at the base of the Tremblant mountains, the Fairmont Tremblant provides great amenities for avid alpine skiers and those looking to relax and unwind for a few days. The accommodation features 314 rooms, with each boasting an exquisite view of mountains and woodlands.
Article content
For those looking to relax with a cocktail in hand, there's no better place than the Axe Lounge Bar, which offers artisan beverages and light meals within a warm ambiance.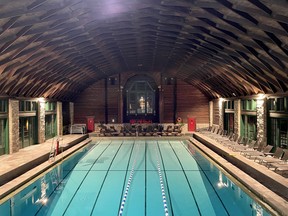 FAIRMONT LE CHATEAU MONTEBELLO – If you're looking for the true charm of staying out in the countryside, another Fairmont property, Le Chateau Montebello (fairmont.com/montebello), will fit that bill.
Sporting modern amenities but with the look and feel of a log cabin, the Fairmont Le Chateau Montebello has all the charm and atmosphere that's uniquely Canadian. Those looking to relax or workout can explore the hotel's spa, gym and swimming pool areas. All are connected via an underground tunnel decorated with artwork.
LOFTS DU VILLAGE – At the entrance of Gatineau Park sits this unique lodging experience made up of 12 lofts and nine studios.
Article content
The Lofts du Village (loftsduvillage.ca) in Chelsea is a great accommodation for those looking for a peaceful retreat away from the daily grind. The lofts are full-sized and include a kitchen, while the studios feature a bedroom and a bathroom.
The accommodation is just minutes from Gatineau Park and the Nordik Spa-Nature and is also steps away from several restaurants.
WHERE TO EAT
RESTAURANT LA SAVOIE – This is a place where you savour your experience.
Restaurant La Savoie (restaurantlasavoie.com) is one place where having a hearty meal is expected. Showcasing the true flavours of the Savoyard from the French Alps, each meal is compiled from the best recipes of raclettes and fondues. 
For cheese lovers there's La Raclette Savoyarde, a full Savoyard meal that includes a selection of meats and vegetables drizzled with imported raw milk raclette cheese. 
Article content
The restaurant also offers various types of fondue (broth, oil and red wine) where red meat and seafood are served alongside salad, roasted potatoes and rice pilaf.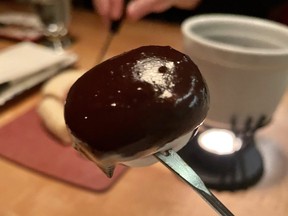 A MANO TRATTORIA RESTAURANT – The taste of Italy in the heart of the Quebec mountains.
Located in the Mont-Tremblant pedestrian village, A Mano Trattoria Restaurant (amanotrattoria.com) features rich plates of authentic Italian pasta or delectable pizza, all prepared in front of you by an expert kitchen surrounded by a dining room full of ambiance. 
A good, solid meal starts off with some delicious bruschetta a mano, with a main pasta course (Linguini Alle Vongole is highly recommended) and paired with a glass of Italian white wine.
It's a popular dinner destination in the village — thus reservations are highly encouraged — and it's well worth it.
Article content
RESTAURANT LE BISTRO MONTEBELLO – Sometimes you just need a burger after a day of alpine skiing. 
Luckily, you can get just that at Restaurant Le Bistro Montebello (lebistromontebello.ca), which features a pub-style menu complemented with locally sourced produce. Great items worth checking out include their Chic Poutine (beef brisket, shallot sauce and cheese curds over fries), or the Duck Foie Gras Burger (foie gras, cheddar cheese, pears, green onions and mushrooms over beef). 
BISCOTTI & CIE – A great place to stop in for breakfast and that cup of much-needed java is this restaurant in Old Chelsea.
Biscotti & cie (biscottichelsea.ca) serves homemade sandwiches, pizza and lovely desserts that can be paired with some refreshing java. A great brekkie before the plane ride includes a Breakfast Panini and an Americano coffee. 
For more information, or for help planning a trip, visit laurentides.com, tourismeoutaouais.com, or bonjourquebec.com 
echau@postmedia.com