Risk that the Bank of Canada will have to reverse course and resume raising rates just went up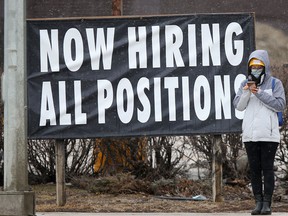 Article content
Canadian employment reports don't get better than the one Statistics Canada released Feb. 10.
Article content
The latest hiring numbers might even be too good for Bank of Canada governor Tiff Macklem, who thinks demand is contributing to dangerously high inflation.
Article content
Employers — apparently undeterred by an unprecedented surge in interest rates — added 150,000 workers in January, a big number by Canadian standards.
Article content
Bay Street was expecting an increase of about 15,000, based on the median guess of forecasters at the major banks. The Canadian economy also added about 69,000 jobs in December, a figure that analysts found shockingly positive, given the economy was supposed to have been skidding towards the ditch at year-end, with inflation and higher borrowing costs combining to crush household demand.
That may yet happen. But Canada's economy is pushing through the headwinds so far, suggesting a series of structural changes is making it difficult for experts to get a read on things. Statistics Canada's latest numbers show record immigration is helping employers fill positions that would have otherwise stayed empty, expanding the economy's capacity to generate goods and services, while at the same time stoking demand.
Article content
Employment by people who weren't born in Canada and have never been a landed immigrant — a grouping that includes non-permanent residents — increased 13.3 per cent from January 2022, compared with an overall employment increase of 2.8 per cent during the same period, Statistics Canada said. Such people were working in a range of industries, led by professional, scientific and technical services, retail, and hotels and restaurants.
Prime Minister Justin Trudeau's national daycare program appears to be having a similar effect, as Statistics Canada said women with young children are working in greater numbers. Employment among women aged 25 to 54 — the prime working years — increased by 51,000 in January, lifting that group's employment rate to 82.2 per cent, the most since Statistics Canada started keeping comparable records in 1976.
Article content
The jobless rate held at five per cent, near a record low and well below the figure that economists typically associate with "full employment," a theoretical state where everyone who wants a job can find one — and, therefore, is likely inflationary. The unemployment rate might have dropped even lower except 153,000 people joined the labour force, a sign of confidence. (The jobless rate is the percentage of the labour pool without work, so if participation hadn't increased, the surge in new positions would have caused the unemployment rate to fall.)
Some 62.5 per cent of the population was employed in January, the most since the spring of 2019.
Average hourly wages rose 4.5 per cent from a year earlier, down from a year-over-year increase of 4.8 per cent in December. Some will find that troubling because inflation — as measured by year-over-year increases in the consumer price index — was 6.3 per cent in December, so salary increases continue to trail cost-of-living increases.
Article content
However, many economists will concentrate on the silver lining around the wage numbers. That's because the declining trend will comfort the Bank of Canada, which last month said upward pressure on pay was contributing to overall inflation by stoking demand. Evidence that those pressures are receding will reinforce the central bank's decision last month to declare a pause in its campaign against inflation provided inflation continued to decelerate.
"Cooling wage pressures were the only factor in today's report that augurs well for further easing of inflation," Marc Desormeaux, an economist at Desjardins Group, said in a note.
That's probably how governor Macklem will look at it for now. But the risk that he will have to reverse course and resume raising interest rates is now heightened.
Article content
The decision to pause was based in part on expectations that consumer spending will slow and that economic growth will stall this year. It's hard to envision that happening with the labour market starting the year so strong, suggesting the "excess demand" that so troubles the central bank could persist.
Canada's inflation drops to slowest in almost a year, but underlying cost pressures stay strong

Kevin Carmichael: Bank of Canada needs deeper post-mortem of what went wrong on inflation

Tiff Macklem reflects on debt, lessons learned and why inflation 'messes up' competition
"It was a blowout report," James Orlando, an economist at Toronto-Dominion Bank, said in a note to clients. The numbers are "sure to raise eyebrows at Bank of Canada. Their conditional pause on further rate hikes is predicated on a slowing of economic growth and an easing in the labour market. The bank won't adjust course after one report, but it will be closely watching to see if this trend of massive job gains continues."
Article content
The employment rate of men aged 55 to 64 increased one percentage point to 70.5 per cent, the highest since 1981, while the employment rate of women that age increased to 59.6 per cent, the highest since 1976.
Private-sector jobs increased by 115,000 positions, and public-sector jobs rose by 32,000. Retail, health care and education services posted the biggest gains in January. Total hours worked increased 0.8 per cent, a strong gain that bodes well for economic growth in the first quarter, and less well for the Bank of Canada's prediction the economy will stall in the first half.
Veronica Clark, an economist at Citigroup Global Markets Inc., told her clients that the "incredibly strong" employment numbers are a reminder that the Bank of Canada promised to pause interest rate increases, not stop.
The Bank of Canada next updates its policy in early March. It would take a lot for policymakers to increase the benchmark rate at that meeting. But "additional strong employment reports over the coming months certainly would increase the possibility of a hike in April and/or June," Clark said.
• Email: kcarmichael@postmedia.com | Twitter: carmichaelkevin