I love simple cakes that make great use of freezer fruit, and this one would be delightful at the end of any dinner if you're having company around.
Reviews and recommendations are unbiased and products are independently selected. Postmedia may earn an affiliate commission from purchases made through links on this page.
Article content
At the tail end of 2022, a little gem of a cookbook was self-published by Julie Van Rosendaal. "You are Human and You Need Cake" is her latest collection of recipes, and as you might have guessed, it's all about cake.
Article content
If you're not familiar with Julie, she lives in Calgary, where she talks about food for CBC Radio, writes about it for The Globe and Mail and other publications, makes podcasts and teaches cooking classes. She also has a terrific food blog, Dinner with Julie. Oh, and she's written 12 bestselling cookbooks. Julie's work is inspiring and creative, and her latest cookbook tackles one of my favourite things — cake!
Article content
There is a little story behind the title of this cookbook. During the early days of the Covid-19 pandemic, Julie edited the hate mail she was receiving to create more uplifting messages in the form of simple poems. One of the poems was about cake, and it became the inspiration for this collection of comforting and delicious cake recipes. Talk about taking something incredibly negative and turning it back out into the world as something tremendously positive and good.
Article content
Cake makes everyone happy, right? And they need not be reserved for special occasions only. Julie has a variety of recipes for simple everyday cakes, some with fruit, and some with chocolate. From Chunky Apple Walnut Bundt to Nanaimo Bar Cake (that's right, she turned the infamous bar into a cake), there is definitely something for everyone here.
And, of course, there are fancier cakes, perfect for pushing the boat out for birthdays and other celebrations. I made the Coconut Cake for my boyfriend's birthday in November and he's still talking about it. Or maybe he's hinting that he wants me to make it again, which I would gladly do. Julie's cake recipes are so dreamy, as is her photography which accompanies every single recipe.
Article content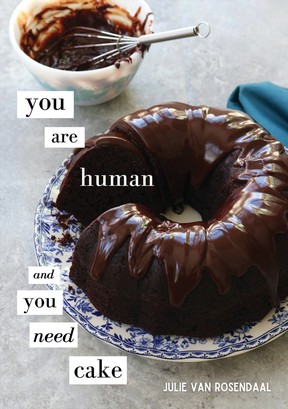 On a dreary January day, I wanted a little lift to my spirits so I baked up the Berry Cornmeal and Jam Cake. I love simple cakes that make great use of freezer fruit. Let this be a PSA that you should now be using the fruit you carefully picked and washed and packed into freezer bags last summer. Those sour cherries aren't going to last forever. Speaking of which, it's always good to make friends with someone who has a cherry tree in their backyard. When they say "come over and pick cherries" I'll never turn down that invitation.
Sour cherries in January are a godsend. And they are smashing in this cake, which has cornmeal for a lovely textural contrast. It's also terribly tender and moist, thanks to the canola oil and sour cream. No sour cherries? No problem. Blueberries, blackberries, raspberries, would all be delicious. The jam part of this cake comes from a final flourish of the preserve before the cake slides into the oven. I used cherry jam for the swirls, just a few tablespoons or so, and it made the cake ever so pretty.
Article content
I cut fat wedges to serve for afternoon tea just for me, but the cake would be delightful at the end of any dinner if you're having company around. Leftovers, should there be any, make a very agreeable second breakfast, with good coffee for accompaniment.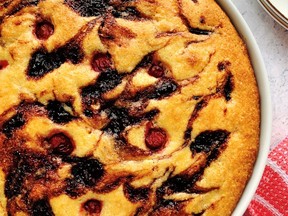 Berry Cornmeal and Jam Cake
For a dairy-free version, 1/2 cup orange juice can be substituted for the sour cream or yogurt.
1 1/4 cups all-purpose flour
3/4 cup sugar
1/2 cup fine yellow cornmeal
2 tsp baking powder
1/2 tsp fine salt
1/2 cup canola or other vegetable oil, or melted butter
1 cup sour cream or plain yogurt
2 large eggs
1 tsp vanilla
1-2 cups fresh or frozen (don't thaw them) blackberries or blueberries
1/3-1/2 cup jam or preserves
Coarse sugar, like turbinado or demerara, for sprinkling (optional)
Article content
Preheat the oven to 350˚F.
In a large bowl, whisk together the flour, sugar, cornmeal, baking powder and salt. In another bowl, whisk together the oil and sour cream or yogurt (if it's very thick, like Greek yogurt, thin it with a little milk or water before measuring it) along with the eggs and vanilla.
Add the wet ingredients to the dry ingredients and stir just until combined. Butter or spray a 9-inch skillet or similar-sized baking dish with non-stick spray. Pour about half your batter into the pan, scatter with berries (save a few for on top, if you like) and cover with the remaining batter. Drop the jam in spoonfuls on the top and swirl through with a knife; scatter with any remaining berries. Sprinkle with coarse sugar, if you like.
Article content
Bake for 35-45 minutes, until golden and springy to the touch.
Serves about 8.
• Recipe from You Are Human And You Need Cake, by Julie Van Rosendaal. Reprinted with permission.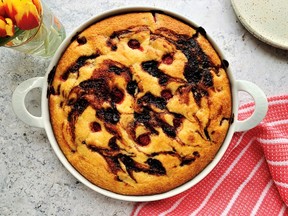 Kohlman: Bison and Bean Stew a comforting, delicious winter meal

Kohlman: Perogie recipe from debut cookbook celebrates flavour and cooler seasons

Renée Kohlman: Pumpkin and cream cheese tart great addition to winter feasts
The news seems to be flying at us faster all the time. From COVID-19 updates to politics and crime and everything in between, it can be hard to keep up. With that in mind, the Saskatoon StarPhoenix has created an Afternoon Headlines newsletter that can be delivered daily to your inbox to help make sure you are up to date with the most vital news of the day. Click here to subscribe.