Cooking salmon this way is fuss-free, delicious, and adds a tasty variation to the weekly meal plan.
Reviews and recommendations are unbiased and products are independently selected. Postmedia may earn an affiliate commission from purchases made through links on this page.
Article content
If you haven't cooked with miso before, you're in for a treat.
Article content
A traditional ingredient in Japanese and Chinese diets, miso paste is made from fermented soybeans and grains, and contains millions of beneficial bacteria. This protein-rich paste is known for adding an extra flavour kick. If you're looking for a little umami in your life, stir miso into soups, broths, marinades, salad dressings, and glazes. Look for miso paste in Asian markets, and most supermarkets. Once opened, it will last a lifetime in the fridge.
Article content
Miso pairs very well with maple syrup. The sweet/salty umami combination works wonders in a marinade for salmon. I know salmon, or any fish really, hits the wallet hard these days, but when I want to shake the dinner routine up a little bit, this is what I crave. And there's no denying that salmon is chock-full of health benefits, so it's a worthy splurge, in my opinion. My hawk-eyes are dialled in on all of the deals so, when salmon is on sale, you bet your bottom dollar that I'm loading up.
Article content
This salad is fairly straightforward to prepare. Just cut the 600-gram piece of salmon into four equal portions, then put it into a resealable plastic bag that has ingredients for a terrific marinade inside (miso paste, maple syrup, rice vinegar, soy sauce, canola oil, ginger, garlic, red pepper flakes). Let it hang out in the marinade for a few hours, then place it under a broiler until the skin is crispy and the salmon is juicy.
That's it, that's all!
You could eat the salmon as is, alongside your favourite vegetables and side dishes, but I wanted to amplify the nutrition of the gorgeous fish by adding it to bowls of kale and quinoa. Talk about a super salad! Be sure to thoroughly rinse the quinoa under cool, running water. If this step is skipped, the salad will have an unpleasant, acrid tone. Boo to that. Quinoa is very high in protein, vitamins and minerals such as iron and magnesium. It contains all nine essential amino acids, making it a complete protein, which is kind of neat. This salad is no lightweight when it comes to good-for-you nutrients! There's avocado, pomegranate and cucumber too, plus a tangy maple dijon vinaigrette. Nutritious and delicious, this is the sort of food I want to keep eating throughout the winter. Cooking salmon this way is fuss-free, delicious, and adds a tasty variation to the weekly meal plan.
Article content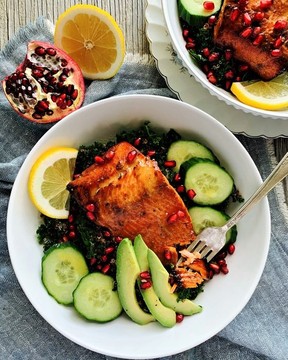 Salmon:
600g skin-on sockeye salmon fillet or steelhead trout
3 tbsp white miso paste
3 tbsp pure maple syrup
3 tbsp low-sodium soy sauce or tamari sauce
3 tbsp seasoned rice vinegar
1 tbsp canola oil
1 tbsp minced fresh ginger
1 garlic clove, minced
Pinch red pepper flakes
Maple Dijon Vinaigrette:
1/2 cup extra virgin olive oil
3 tbsp fresh lemon juice
1 1/2 tbsp pure maple syrup
1 tbsp Dijon mustard
1 garlic clove, minced
1/2 tsp salt
1/4 tsp pepper
Salad:
1 bunch kale, centre ribs removed and leaves finely chopped
2 cups cooked quinoa ***
1 english cucumber, sliced
2 ripe avocados, sliced
1/2 cup pomegranate arils
Lemon slices for garnish
1. Prepare the salmon: cut the fish into four portions approximately 150g each.
Article content
2. In a resealable plastic bag, add the miso paste, maple syrup, soy sauce, rice vinegar, canola oil, ginger, garlic, and red pepper flake. Shake to mix well. Add the salmon and refrigerate for at least one hour or overnight.
3. Preheat the broiler. Place the salmon pieces skin-side down on a foil-lined baking sheet lightly greased with oil. Discard the marinade. Broil for five minutes, then flip the fish over and broil for another three to four minutes until the salmon skin is crisp, lightly charred, and the fish flakes easily when tested with a fork. Let the salmon rest.
4. Whisk together the salad dressing ingredients. Taste and adjust seasonings if necessary.
5. In a large bowl, add the kale and quinoa. Mix to incorporate. Divide the kale and quinoa into four shallow serving bowls. Top with a piece of salmon, slices of cucumber, avocado, and pomegranate arils. Drizzle with the vinaigrette, and add a lemon slice. Serves four.
Article content
How to cook quinoa:
Place one cup of red or white quinoa in a fine mesh sieve. Rinse under cold running water for a minute or two. Dump into a medium saucepan and cover with plenty of cold water. Bring to a boil over high heat, cover and turn the heat down to low. Simmer for about 12 minutes until the quinoa is tender and the little "tails" of the quinoa begin to unfurl. Drain well in a sieve and transfer to a bowl to cool.
The news seems to be flying at us faster all the time. From COVID-19 updates to politics and crime and everything in between, it can be hard to keep up. With that in mind, the Saskatoon StarPhoenix has created an Afternoon Headlines newsletter that can be delivered daily to your inbox to help make sure you are up to date with the most vital news of the day. Click here to subscribe.