Article content
Leamington resident Wayne King is sounding the alarm over another ecological setback for the Hillman Marsh after thousands of fish and other aquatic life died in December.
Article content
King, a member of the Leamington Shoreline Association, said a late December storm that brought snow, bitter temperatures and west/southwest winds with gusts as high as 80 km/h, resulted in low lake levels in the western basin of Lake Erie.
Article content
"Due to the current 1,500-foot breach in the barrier beach, Hillman Marsh is now fundamentally a bay of Lake Erie," King said.
"During the storm, two to three feet of water was siphoned from the marsh leaving shallow areas of the marsh dry, stranding fish and wildlife in those areas."
Walking along the spit following the storm, King said he saw large numbers of dead carp and catfish, invertebrates, mollusks and clams that had washed ashore.
"I never in my life thought that a low-water level was going to present problems," he said. "We're all praying for lower water levels and here it's created a problem of its own."
Article content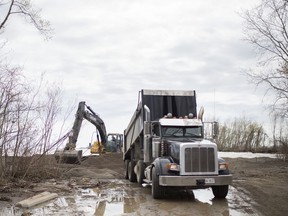 Efforts to protect the marsh have been ongoing for years by both Essex Region Conservation Authority and Leamington officials and include a request to the federal government's Disaster Mitigation and Adaptation Fund for help with an estimated $18-million municipal proposal to re-establish a barrier for protection from Lake Erie.
Rob Sharon, Leamington's director of infrastructure services, said the plan calls for the placement of armour stone to harden the shoreline and reduce the breach, as well as to build a number of islands to buffer wave action.
The municipality applied for the maximum available funding — 40 per cent of the project cost.
"We were not selected," Sharon said. "Basically, they only have so much money … and our project simply wasn't selected.
Article content
"(Federal officials) did reach out to us afterward and told us the project was eligible, encouraged us to apply for future iterations of the program."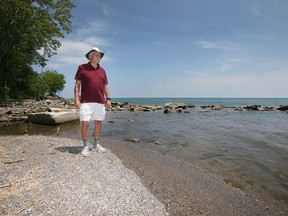 Sharon will go to council this spring with a report and hopes to get the go ahead to submit another application. The program funding closes in July.
"Forty per cent funding is great but on an $18-million project we still need to come up with almost $11 million in order to fund our portion," he said. "That's not easily done.
"We would likely look to some form — all subject to council approval — of direct funding from those landowners who are benefiting from the work," he added.
"We would be hoping that perhaps the province would be interested in the project as well."
Sharon agreed there is some urgency to protect the marsh, adding technical studies have shown the area is at risk of flooding due to "overtopping."
Article content
"We know it's been a problem for a long time. It really all comes down to money, to funding (of) very expensive infrastructure that protects a very limited amount of land," he said.
Residents warn land, lives at stake due to 'ecological disaster' near Point Pelee

Leamington group meets with Premier Ford to discuss shoreline help

Hillman Marsh being protected from Lake Erie thanks to Ducks Unlimited

Lake Erie waves stealing land from Point Pelee, Hillman Marsh
The other challenge for the municipality is that it "really doesn't resolve in a long-term sustainable area. It's always subject to flooding and risks of flooding given other infrastructure challenges around."
King said the area is very unstable and the lack of protection from Lake Erie will continue to cause problems.
"It seems like there's one disaster after another in that Hillman Marsh area," King said. "This happens to be the latest one.
"If nothing gets done … especially with these lower water levels, it's just going to be a rotting stinking hell hole. All these dead fish and dead vegetation."
jkotsis@postmedia.com