Article content
Automotive parts manufacturer Magna International announced Wednesday it will invest $6 million in its Windsor mechatronics plant as part of a wide-ranging $470-million package to expand its Ontario operations and add more than 1,000 jobs across the province.
Article content
The company will build a 75,000-square-foot addition to its existing Twin Oaks Drive facility in east Windsor.
Article content
"It'll expand production in Windsor to manufacture powered aluminium pickup bed covers," Minister of Economic Development, Job Creation and Trade Vic Fedeli said.
"That will create 110 new jobs.
"It's a major move with six different announcements. It's truly positive news because you're seeing what I call generational investments in Ontario to help make the EVs of the future."
The company didn't announce who the customer was for the Windsor-manufactured covers.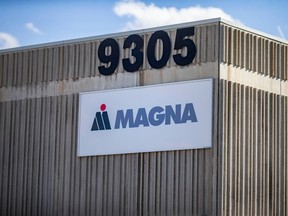 Invest WindsorEssex vice president of investment attraction and strategic initiatives Joe Goncalves said landing the Windsor investment has been a joint venture with the City of Windsor and the provincial government that's been ongoing since February 2022.
Article content
The province, through Invest Ontario, will invest $23.6 million in the Magna projects while the city is offering supports worth $75,000 through its Community Improvement Plan to help upgrade the local site.
"The Magna investment builds on the manufacturing transformation and diversification taking place in the Windsor-Essex region," Goncalves said.
"Another 110 high-paying jobs will contribute to the economic vitality of the City of Windsor and the WindsorEssex region as a whole."
Goncalves added these types of investments in Southwestern Ontario also serve as an attraction for other companies considering locating in North America, which is forecast to be the fastest growing electric battery market in the world in 2023.
Article content
"Our project is labour intensive, so we got 110 jobs on a $6-million investment," Goncalves said.
Magna will also invest $265 million to build a new battery enclosures plant in Brampton that will eventually create 560 jobs.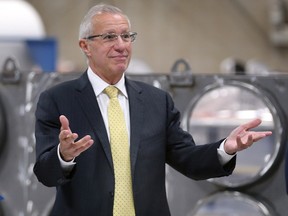 Fedeli confirmed the new plant will be supplying those enclosures to Ford Motor Company's Oakville production complex. Ford is currently retooling Oakville assembly to enable it to be build multiple electric vehicle models.
"This is a game-changing investment by Magna that will create hundreds of new jobs across the province while further strengthening Ontario's end-to-end automotive supply chain," Fedeli said.
Magna also confirmed investments to expand its plants in Guelph ($140 million, 175 jobs), Belleville ($35 million, up to 100 jobs), Newmarket ($24 million, 75 jobs) and Penetanguishene ($1.8 million, 15-plus jobs).
Article content
"Magna's roots in Ontario run deep and we are excited about opening a new facility dedicated to a strategic electrification product," said Eric Wilds, Magna's chief sales and marketing officer.
"The Brampton facility, coupled with investment and growth in five existing Ontario facilities, allows Magna to keep up with customer demands across several product areas. We are excited to bring new business, more investment and additional jobs to Ontario."
Auto parts giant Magna opening $50M-plus plant in Chatham

Auto parts maker Magna posts profit below estimates on higher costs
Automate Canada chair Shelley Fellows said the Magna investments will benefit local automotive suppliers and automation firms no matter where the plants are located.
Article content
"Windsor's a stone's throw away from all their factories," said Fellows, who is also a member of the Canadian Association of Mold Makers' board of directors.
"They're definitely a strong customer for a lot of local companies. I would say there's an extremely high chance they'll be getting new business."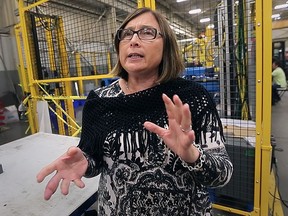 Fellows added Magna's investment is a confirmation of how companies view the province as a major player in the electric vehicle space since the announcement of the NextStar battery factory.
"Investing half a billion dollars in its Ontario capacity is a vote of confidence about the work we're doing to build an EV supply chain," Fellows said. "They wouldn't do it if they weren't bullish on the sector.
"They know Ontario has the skilled workers, resources and experience to be the place for new capacity."
Magna, which was founded in Ontario in 1957 and remains headquartered in Aurora, has 168,000 employees in 29 countries.
dwaddell@postmedia.com
twitter.com/winstarwaddell