Article content
MP Brian Masse says he feels confident about the future of his private member's bill to establish a national urban park in Windsor ahead of the bill's final reading and vote early next month. 
Article content
Masse (NDP —Windsor West) was joined by MP Chris Lewis (Conservative — Essex) Tuesday morning as Masse's Private Member's Bill C-248 to establish Ojibway National Urban Park heads to a third reading in early February. A third reading vote is expected Feb. 8. 
Article content
"This upcoming third reading vote is another important step in the legislative process," Masse said at a press conference at the Ojibway Nature Centre Tuesday.
"We don't need to wait around anymore … We want to see this passed, implemented and action that's going to get developed. So I want to say thank you for everybody (who has) been part of this journey."
Joining Masse and Lewis were representatives from Unifor Local 444 Environment Committee, Friends of Ojibway Prairie, Windsor Essex Bike Community and Wildlife Preservation Canada. Caldwell First Nations Chief Mary Duckworth was unable to attend, but has also expressed support.
Article content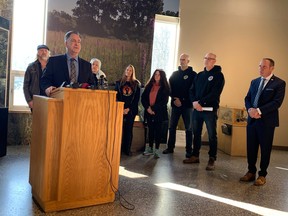 Masse said his Conservative, Green and Bloc Quebecois colleagues have supported Bill C-248 and he feels "good" about the bill being passed. From there, if passed, the bill will head to the Senate.
The proposed Ojibway National Urban Park will include Ojibway Park, Spring Garden Natural Area, Black Oak Heritage Park, the Tallgrass Prairie Park, Ojibway Prairie Provincial Nature Reserve and Ojibway Shores. If connected, the park would span about 900 acres and is home to as many as 500 species at risk.
"We have to create green spaces," Lewis said. "Bill C-248 will use existing lands, tie them together to allow people to get outside of their homes, get away from the television or TV screens, their computers, get active and help on the mental-health front. It is absolutely enormous … it puts Essex Windsor on the map."
Article content
While Masse's bill seeks to create the Ojibway National Urban Park by legislation through an amendment to the National Parks Act, the federal Liberal government has thrown support behind a Parks Canada process that would create national urban parks across the country through policy.
MP Irek Kusmierczyk  (Liberal — Windsor-Tecumseh) said the Parks Canada process is also moving forward.
"We're very excited. It's progressing really well," Kusmierczyk said, noting consultations and open houses held in December for community feedback. "We're excited about the fact that we'll have some news in short time about the finalization of the transfer of Ojibway Shores.
"In short time, we will have an Ojibway National Urban Park that's here in Windsor Essex."
Article content
Public invited to info session on proposed Ojibway National Urban Park

Ojibway National Urban Park could be reality in 2024, says Kusmierczyk Author of the article:

Friends of Ojibway want to see larger national urban park
Among the groups to voice support Tuesday were the Friends of Ojibway Prairie, a volunteer organization dedicated to the Ojibway Prairie Complex.
"The Ojibway Prairie complex is an absolute gem with no location in Ontario, having such density for rare species," said Mike Fisher, chair of the Friends of Ojibway Prairie's national urban park committee.
"We're leading the country here in an exciting story of protecting endangered species, creating opportunity for people to have fun and safe places to be, tourism and adding a primary feature for this area," Masse said.
Lewis also spoke to his private members Bill C-241, which would allow skilled tradespeople to write off business-related travel expenses, and is coming up in the House of Commons mid-February. 
ksaylors@postmedia.com