Reviews and recommendations are unbiased and products are independently selected. Postmedia may earn an affiliate commission from purchases made through links on this page.
Article content
Seven years ago, Ivanka Siolkowsky, an elementary school teacher in Edmonton at the time, had reached her breaking point.
Article content
"There was such chaos in my classroom. My students were always stressed out," she says, describing the visual noise in her Grade 5 room, crammed with colourful posters and outdated textbooks. "It looked chaotic and felt chaotic. One day, I said, 'I can't do this anymore.'"
Article content
After pulling down the posters and discarding the old books — some from the 1990s — Siolkowsky quieted the space with neutral tones and minimal decor.
"I even took all of the papers off the corkboards and just left the natural cork aesthetic. And then we hung the art there," she says. "I brought in plants and I created systems within the classroom (for where things should go)."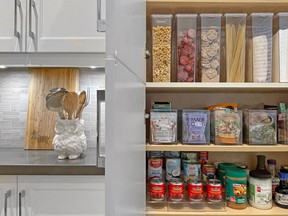 Siolkowsky saw a big change. "Children who had anxiety felt calmer, and I noticed the students' development growth as a whole improved."
Article content
Eventually, she helped her teacher colleagues organize their classrooms, and she extended services to her students' homes. "And that's how I started my business," says Siolkowsky, who left teaching and now runs The Tidy Moose, a professional organizing business in Toronto.
While Siolkowsky practices the KonMarie method – she took the course in New York taught by the author of the best-selling book The Life-Changing Magic of Tidying Up — she isn't a purist. "I don't believe one system has all the answers," she says. That's because a family with children who have extracurricular activities have very different needs from a single person, for instance.
As for investigating whether an object sparks joy and using that as a guide for keeping or tossing, Siolkowsky agrees with the approach "to some extent, but it has to be practical. You can't throw out your vacuum or treadmill because it doesn't spark joy," she says, reiterating a quip that circulated at the height of Kondo's popularity.
Article content
Siolkowsky believes that streamlining one's possessions and getting organized improves not only mental health but personal relationships, says Siolkowsky.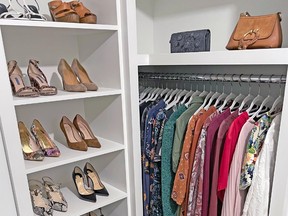 "Being messy carries into other areas of your life — it affects your sex life. If you're always mad at a partner for not throwing their socks in the hamper, you won't want to be (intimate with them)," she says. "I work with clients who tell me, 'You saved my marriage because of the systems we put into place.'"
Dr. Donna Ferguson, a clinical psychologist in CAMH's Work Stress and Health program, backs up Siolkowsky's hunch that environment impacts mood. "If our surroundings stress us out, we feel the impact," Ferguson says. "People who take the time to make their beds every morning experience longer, more restful sleep."
Article content
Kristen Fuller, a physician and mental health journalist writing in Verywell Mind, a New York-based online magazine that covers mental health topics, explains that "clutter can actually be distracting. Our brains can only focus on a limited amount of stimuli at a time."
The repercussions could be sizable for remote workers. "If you're surrounded by clutter when you're trying to work from home, the clutter can actually make it harder for you to think clearly," Fuller says.
Mubeat Jakupovski, the professional organizer in Toronto behind Organize with MJ, calls the fuzzy phenomenon "brain fatigue."
When every surface is covered, she says, "you have one more thing to think about. It's a distraction. The less you have to distract you, the more clarity you have."
Article content
In her three years as a professional organizer, Jakupovski says she's had an awakening herself. "Organizing and decluttering is a lot bigger than I thought it was. My clients don't call just to beautify their homes but also to improve their productivity and mood."
"Part of what makes me so good at it is I suffer from anxiety," Jakupovski says. "If things are not put into place or don't have a proper home, I really am unable to function."
The messy home starts to feel like an insurmountable to-do list.
"A lot of my clients suffer from anxiety and depression because they can't get a grasp on their homes," says Jakupovski, a problem made worse by chronic purchasing that gives them a temporary high.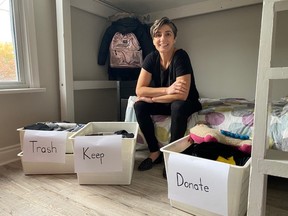 "People usually have duplicates of what they need," she says. "They just can't locate them. If you organize and declutter you'll know where everything is and have a place for it. Set the structure instead of resorting to a quick Amazon fix."
She's not suggesting one live a monk's life: "I'm advocating for having what you need. Do you need 10 bowls, or 25 blankets?"