Linda Stone was censured by the Durham District School Board for questioning their policy of coordinating the gender transition of students without parental consent
Article content
An Ontario school trustee has been barred from attending board meetings in part because she publicly questioned the district's stated policy of accommodating a student's decision to switch genders while keeping it a secret from their parents.
Article content
At a Feb. 7 meeting, the Durham District School Board voted to censure fellow trustee Linda Stone, and bar her from all board meetings and committee hearings for the rest of the year. In an accompanying statement, the board condemned the "harmful impact" of Stone's comments and urged the community to "begin to heal."
Article content
"Transphobia has no place in our schools or school boards," wrote fellow trustee Niki Lundquist in a tweet praising the censure.
Article content
The board based their decision on a 55-page report commissioned from an outside investigator alleging that Stone, who won re-election to the board in October, was guilty of espousing "racist" and "transphobic" viewpoints that caused "objective harm" to the trans community.
Among them was the fact Stone had questioned the district's policy of concealing a child's gender transition from parents if requested. Under the school board's official anti-discrimination guidelines a student can change gender simply by declaring so to school staff. Staff are explicitly forbidden from questioning the new identity or otherwise failing to provide appropriate "affirmation," including recognition of the student's preferred pronouns.
Article content
"Self-identification is sufficient for trans students and employees to be addressed by their chosen name and pronouns and to be recognized according to their gender identity," reads the guidelines. It adds, "staff shall maintain privacy and confidentiality of trans students and will not disclose a student's gender identity to the student's parent/family/guardian, employees or other students without the student's explicit prior consent and unless the student requests it."

"I was a little disturbed to see that you would keep things private with the student and not let parents know," Stone said in a November, 2021 meeting. She also suggested that students requesting a change of gender might be best advised to "seek counselling to find out whether or not something else may be interfering with what the child is actually going through."
Article content
These comments spurred a number of complaints to the board that Stone was violating the "equity and diversity initiatives" of the district. It was these initial complaints that would ultimately lead to the board targeting Stone for investigation and eventual censure.
Article content
The investigator's report against Stone also focused on her "antitrans" Twitter history. In one, she retweeted a post from a mother alleging that her daughter's U13 rugby team played against an opponent with "two large boys in it" – an apparent reference to trans girls. In another, she posted a link to testimony from Chloe Cole, a California teenager who became a campaigner against trans surgery for minors after she underwent a double mastectomy while still in high school.
It was the Cole tweet which caused the report to write that Stone was circulating "antitrans language" and perpetuating "harmful narratives around transgender people."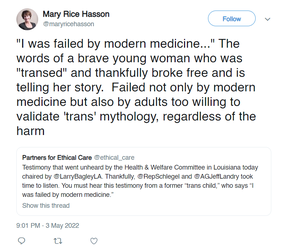 "How many different pronouns must a teacher memorize? If 23 students all have different pronouns and the teacher gets one wrong, would that be grounds for a complaint?" wrote Stone on May 11 in a tweet that sparked an official district statement distancing itself from the trustee.
Article content
The comments made are contrary to the commitment, values and actions of the Durham District School Board and our responsibility to promote and respect the Ontario Human Rights Code," read the statement, which would be one of two issued by the school board to condemn statements by Stone. "We recognize the historical and ongoing oppression that individuals face because of systemic oppression, discrimination and racism."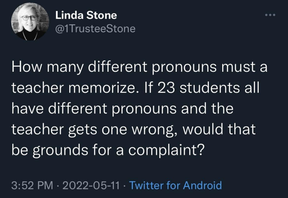 The 55-page investigator's report also gave weight to allegations that Stone was "racist" for opposing changes to district policies asserting that the district was shot through with "systemic racism" enabled by "the structural dominance of white supremacy."
As evidence, it cited Stone's posting of a tweet condemning the teaching of critical race theory. Notably, the tweet was originally posted by Mike Ramsay, a fellow Ontario school trustee who has also faced censure for critiquing the presence of "anti-racism" ideology in the school curriculum despite the fact that he is himself Black.
Article content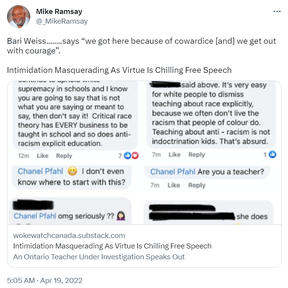 Stone is not the first Ontario school official to be pushed out of her job for questioning the official line on transgender identity.
Last year, Waterloo, Ont., teacher Carolyn Burjoski was at a school board meeting registering her concerns over library books that she accused of glossing over the long-term consequences of gender transition surgery and hormone treatment. In one book entitled The Other Boy, the main character says "it's cool" when informed that their gender transition will render them permanently sterile.
For this, Burjoski's presentation was cut off, the teacher was issued an indefinite "stay-at-home" order and a video livestream of the meeting was even scrubbed from the internet by board officials.
Article content
Burjoski's case would end up factoring into Stone's censure. One of the charges against the Durham trustee is that she has posted a link to a blog post by Burjoski in which the Waterloo teacher had written that in the current discourse the mere utterance of the phrase "all children should be treated equally" can put a teacher's career on the line.
The report dismisses the sentiment as "controversial political opinion" that contributes to "an environment of discrimination" – before indeed recommending that Stone's career as a trustee be brought to an end.
Some parents object as Canadian schools quietly aid students' gender transition

Canadian specialist urges MDs to 'slow down' in treating transgender patients after U.K. clinic closed