Article content
Barely hours after being introduced to the world at Windsor Regional Hospital's Met campus in January 2004, a newborn child was packed into a duffle bag and smuggled out of the maternity ward.
Article content
Less than an hour later, descriptions of the abductors — the baby's parents — were being broadcast on radio stations across Ontario and posted on digital highway signs.
Article content
Hundreds of thousands of Ontarians had now joined in the hunt for the missing baby.
Windsor police investigators knocked on doors of likely local locations the parents might be found, and officers even scoured back alleys around the Met campus — just in case. But less than 24 hours after the hospital issued an internal Code Yellow, for a missing person within the hospital, and staff alerted police, the missing infant was retrieved safe and sound in Toronto.
At the time of the emergency public alert being sent out by the OPP, Ontario's Amber Alert system was also but an infant, having launched exactly a year earlier. The Windsor Star played a part in the child abduction information system being brought to the province via news stories of how effective it was elsewhere, editorials urging its adoption here and a Star reporter's query to Ontario's top cop.
Article content
It was after one such Star editorial that then-public safety and security minister Bob Runciman — in Windsor to speak at the Police Association of Ontario's annual gathering — was asked whether the province might consider Amber, which had just been credited with saving the lives of three children in its first year of operation in Michigan.
That was in August 2002, and the minister said he would personally look into it. Ontario's Amber Alert launched the following January, only weeks after Alberta became the first Canadian province to implement the system.
Amber stands for America's Missing: Broadcast Emergency Response but was created in Texas in 1996 in the aftermath of the abduction and brutal murder of nine-year-old Amber Hagerman that same year. Similar to tornado and other severe weather warnings, it's all about speed and reach of information warning of imminent danger.
Article content
There are specific criteria for issuing an Amber Alert, including the belief that a child under age 18 has been abducted and is in grave danger. Information to help identify the child and/or the abductor or a suspect vehicle must be available, and the alert must be issued within a short time from the moment of abduction.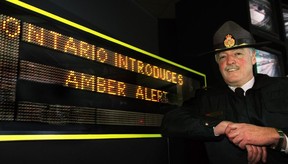 Investigators say time is of the essence when it comes to solving abduction cases. The Ontario Provincial Police said Amber Alert works and has saved lives, with the public providing essential assistance to investigators, sometimes with tips that might appear insignificant on their own. Since 2018, the OPP said it has issued 21 Amber Alerts, an average of four per year.
In the case of the missing Windsor baby in January 2004, it was believed the young parents got spooked after the mother received a hospital visit by the Children's Aid Society with questions as to the possible cause of the baby's tremors. Could they be symptoms associated with prenatal drug or alcohol use by the mother?
Article content
A short time later, the baby was being smuggled out, the mother still dressed in a hospital gown on a winter's day.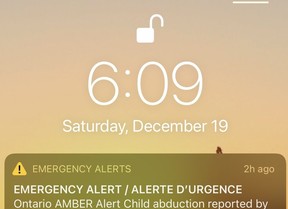 When the Amber Alert was first launched in Ontario, it required the OPP to maintain a list of media outlets and then have an officer reach out be phone to each newsroom. Because the Windsor hospital baby abduction happened on a Saturday, it meant some area radio stations, without weekend staffing, didn't get the alert out.
'Vehicle of interest' photo released as Windsor police escalate search for missing 13-year-old girl

Peel Region woman and son found in Tilbury after Amber Alert
In an age of ubiquitous smartphones and other wireless devices, potentially millions of Ontarians now get immediate notification when a child has been taken and public eyes are urgently needed. Mobile devices became part of Ontario's Amber Alert system in 2018, and publicly broadcast messages also appear on social media, electronic highway signs and even lottery terminals.
dschmidt@postmedia.com