The main goal of the corporation, said SHC presdient Louise Michaud, who conducted the tour, is to house low-income people and house them "appropriately and affordably."
Article content
The Saskatchewan Housing Corporation (SHC) opened the doors to four of its Saskatoon housing units Tuesday, giving members of the media a tour of rent-ready dwellings and those in serious need of a refresh.
Article content
The main goal of the corporation, said SHC presdient Louise Michaud, who conducted the tour, is to house low-income people and house them "appropriately and affordably."
Article content
The tour was an opportunity to educate the public about social housing and see examples of units in various conditions. A similar tour was held in Regina on Monday.
"We wanted to give people an idea of what the housing portfolio looks like in Saskatoon," Michaud told reporters. "And we wanted people to understand that we have units available for both families and seniors. We wanted to also give an indication of the work the housing authority does to maintain that portfolio for the benefit of tenants."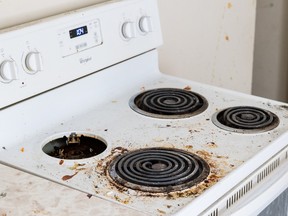 SHC administers and maintains about 2,400 units in Saskatoon. Currently, there is a 13 per cent vacancy rate, or about 310 empty units — 210 family units, 100 senior units. There are 18,000 social housing units in Saskatchewan.
Article content
"There are a number of reasons why units might be vacant," Michaud said. "Some are in the process of being turned over. And depending on the amount of work it takes to get a unit ready, it might be vacant for a month or a few months in order for repairs to be made."
Many units in the city were built in the 1970s and '80s, she said, and a number of those are being renovated and modernized. She added that vacant units are sometimes vandalized, with items like copper pipe being stolen. But that is a bigger problem in Regina than in Saskatoon.
The Saskatchewan Housing Corporation budgeted $1.3 million in 2022 to turn over vacant units and make them ready to rent.
The overall turnover budget was $2.3 million for the province. Michaud said about $50 million is being spent this year on renovating and revitalizing the social housing stock across Saskatchewan.
Article content
The amount of rent paid paid by tenants is based on a calculation of 30 per cent of pre-tax eligible income.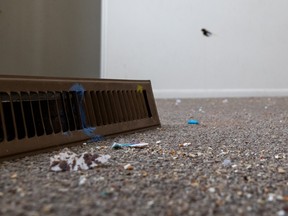 The tour began in a freshly painted and thoroughly cleaned four-bedroom dwelling at St. Paul's Place in the Westmount neighbourhood that is ready for occupancy.
The tour moved next door to a unit with the same layout, but with holes kicked or punched in walls, air vents clogged with dust and hair, grime on countertops and floors. The unit will require about $10,000 to bring it back to a state of readiness,  Michaud said.
The average turnover cost to get a unit ready for the next renter is between $6,000 and $7,000.
The corporation has recently taken criticism for its high vacancy rates, which stand at 19 per cent, especially in light of homelessness in the province.
"What we find is that with homelessness it's not just a matter of providing a house," Michaud said. "A house is critical to addressing homelessness, but people have more complex needs. The social housing program is designed for people who are able to live independently." 
SHC, she added, is always looking at ways to address homelessness, and encourages organizations interested in partnerships that utilize social housing to come forward.