"His track record of coaching high-level players and teams around the world gives him a unique style that brings out the best of our players."
Article content
The Saskatchewan Rattlers have re-signed head coach Dean Demopoulos with the hopes of continuity and building off last season.
Article content
"That's exactly why we're bringing him back," said Brad Kraft, Rattlers' vice-president of operations for the Canadian Elite Basketball League club, in an interview Monday.
Article content
"We want a strong year and you can't start strong if you're re-learning everything. We want to see if we can better our record that we did last year and get back into that final dance for a ring."
Last season, the Rattlers posted an 11-9 record and the best home record in the entire league at 8-2. They qualified for the CEBL playoffs in 2022 after a disappointing 1-13 record and last-place showing in 2021.
"I just like his history of the way he coaches and his philosophy — I think it's very much like min," Kraft said of Demopoulos. "I just think he's great. He's a player-first kind of guy, he makes sure everyone's happy and healthy and in the right mind frame and he goes out of his way to succeed if they aren't. He really works with people and genuinely cares about people — that's what I like about him."
Article content
Demopoulos, a wily veteran on the bench, is a former NBA assistant coach with the Seattle Super Sonics, Portland Trail Blazers and Los Angeles Clippers.
"It's a chance to put another layer on the program," Demopoulos said in an interview Monday, "and, hopefully, we can get some of the same guys back, if not all of them. I thought last year, barring a few things that are pretty much out of your control, we had a chance to compete until the end there, at a pretty high level but, unfortunately, a couple of guys got injured and we couldn't quite get over the hump with that.
"I'll be better this year, too hopefully."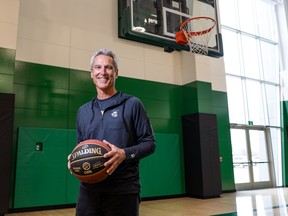 The Philadelphia, Penn. native spent 17 years at Temple University where he was an assistant coach under Naismith Memorial Basketball Hall of Fame member John Chaney. During that stint, Temple had a winning record of 393-151 and made it to the annual NCAA "March Madness" tournament 16 times.
Article content
Demopoulos then went on to serve as the head coach of Kansas City Roos in 2000 and made his NBA debut in 2001.
He later went on to coach Melbourne United of Australia's National Basketball League (NBL) in 2015. He led the team to an undefeated record as Melbourne finished the season in first place. Following his time in the NBL, Demopoulos became an assistant coach in the NBA G League for the Detroit Pistons affiliate Grand Rapids Drive during the 2018-19 season.
"I hope I learned something (last season)," said Demopoulos. "I learn almost every time I take a breath, you learn something. Whether you can apply what you learn, that's a whole different story. It's like executing a play. You can (practise) it all you want but you need to be able to execute it and apply it under the right circumstances, all circumstances."
Article content
The Rattlers are expected to return the entire coaching staff from last season and as many returning players as possible once free agency opens Feb. 1.
"Regardless, you have to build a team," said Demopoulos. "It would be great to have some continuity. The better programs in competitive athletics, generally speaking, have some sort of continuity. Continuity is a good thing."
In 2022, the Rattlers secured a quarter-final berth after beating two-time CEBL champion Edmonton Stingers (94-91) at the SaskTel Centre.
"Dean made an immediate impact last season with the Rattlers — bringing us from last place in 2020 and 2021 to a playoff contender in 2022 with the best home record in the league," said Kraft. "His track record of coaching high-level players and teams around the world gives him a unique style that brings out the best of our players."
Article content
Demopoulos served as an assistant coach with Seattle Supersonics under Nate McMillan before becoming a part of the Portland Trail Blazers coaching staff in 2005.
"I felt it was a priority for us to get Dean to return to lead the team in 2023 after the tremendous job he did in completely turning around the direction of the team." said Rattlers general manager, Barry Rawlyk. "He established a culture where the team competed night in and night out, developing a culture of camaraderie around the team. I repeatedly heard fans comment how much they enjoyed the team's competitiveness and style of play, so it was vital for us to have some continuity at the top, and hopefully, we can continue to build on that momentum from last season.
dzary@postmedia.com
'Huge year' for Saskatchewan Rattlers

Aris travels from afar to join CEBL's Rattlers
The news seems to be flying at us faster all the time. From COVID-19 updates to politics and crime and everything in between, it can be hard to keep up. With that in mind, the Saskatoon StarPhoenix has created an Afternoon Headlines newsletter that can be delivered daily to your inbox to help make sure you are up to date with the most vital news of the day. Click here to subscribe.