Article content
If you think the slower-than-usual snowfall across Western Canada has affected the amount of terrain available at Sunshine Village, well … we hate to tell you that you're wrong.
Article content
But it's the truth.
Article content
Want groomers? Of course Sunshine Village has those.
But if you're looking for something a little more challenging — if that's the right word — well, in that case Sunshine Village really has you covered.
The resort in Banff National Park still has all of its big mountain terrain accessible for skiers and riders.
Article content
It also has four parks open, designed to challenge the most trick-savvy skiers and riders, with a fifth set to open shortly.
"We have full-on progression parks," said Kendra Scurfield, manager of brand and communications at Sunshine Village. "We have our kids' play park off of Jackrabbit and Wolverine, that's all beginner features — including beginner jumps — and then we have the Springhill Park, which is more medium, and then our Divide Parks (Strawberry and Great Divide) and our Grizzly Park opening soon."
Article content
That is, simply put, a lot of parks.
Whether you're just getting into hitting jumps and rails or a seasoned vet, there's probably nowhere better in Western Canada than Sunshine. They've got spaced-out parks that cater to pretty much every level.
Want proof? Last weekend, Canada's premiere snowboard shop, The Source, collaborated with Burton and Riders on Board for Let's Get it, an event that brought riders of all ages and skill levels together with pros to step up their games in a custom-built park.
That doesn't just happen anywhere.
But the parks aren't all we're talking about here.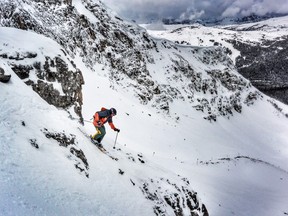 When we referenced the variety of terrain that Sunshine's got on offer, we're also talking about some of the most serious big-mountain terrain that's out there in Western Canada.
Article content
And despite the fact that it's been a slower-than-usual season for snow in the region, areas like Delirium Dive are very much open for skiers and snowboarders who want to test themselves on the most steep and daunting lines.
"It's such an incredible space," Scurfield said. "I was in there on the weekend and it was fun, there were great powder packets to be found."
Skiers and riders who head into Delirium Dive do require avalanche gear and a partner, so be aware of that, but when you combine it with Galaxy Ridge and the South Side Chutes, there is some legitimately wild terrain to explore at Sunshine Village right now.
And, of course, there's also the fact that Sunshine has actually been getting some pretty solid snow recently.
Article content
The season total is sitting at 407 cm after getting a sprinkling of 4 cm over the past seven days, so there's still solid coverage across the mountain and absolutely no shortage of snow anywhere — whether that's in the terrain park, in the more challenging areas, on groomers or through the gladed areas.
"There's constantly big mountain terrain," Scurfield said. "We're actually really lucky because we have such a unique location up high in the continental divide that we're actually that magnet for every last bit of precipitation that comes through and it allows us to catch every bit of snow.
"So while it has been a lower snow year we have a lot more snow than many of the other resorts do."
daustin@postmedia.com