Sharon Meyer fills the role of First Nation, Métis and Inuit education consultant with the North East School Division, and in February reaches hundreds of students as part of Saskatchewan Aboriginal Storytelling Month in the province.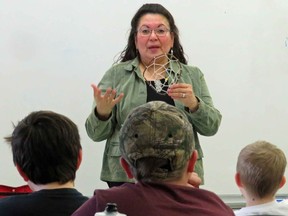 Article content
Sharon Meyer is bringing Indigenous storytelling to students in nearly two dozen Saskatchewan schools this month.
Article content
For Indigenous people, storytelling is both a gift and a long-standing custom, sanctioned by the people to teach, entertain and remember, she says.
Article content
Meyer fills the role of First Nation, Métis and Inuit education consultant with the North East School Division, and in February reaches hundreds of students during Saskatchewan Aboriginal Storytelling Month in the province.
A good story can be unique and also have a personal connection, Meyer notes.
"We are in an era where reconciliation has opened up the earnest to learn the truth, understand our history and move beyond colonial thoughts and acts," Meyer says.
"It's a beautiful time to be First Nation, because people are open to listening and learning."
February is also called Eagle Moon — Mikisowipisim in Cree — and is a time when traditionally the First Nations people would crest regalia such as headdresses, eagle staff and other ceremonial pieces with the eagle feather. It's the time of year when eagles start to lay their eggs, and is therefore a very specific month to the Indigenous culture. The eagle moon is also known for rest time, giving Indigenous peoples time to sit and share stories.
Article content
First Nations are connected to Mother Earth, which is where stories and legends come from, Meyer said.
The original stories involve the trickster, a being that existed with the plants and animals before the coming of humans. All First Nations have a trickster; the one Meyer was raised with in the Cree culture was "Wesakechak." The name changes in different nations, but the stories are similar.
"That is why the Indigenous people are so connected to our stories and the lessons to be learned from them," Meyer said.
"Every traditional legend is connected to a lesson of how we should be in relation to the plants and animals. She said we have kinship to Mother Earth, and when you have kinship we celebrate, and learn how to respect each other through our legends, and that is why we have legends."
Article content
The North East School Division is vast and Meyer can't be everywhere at once, so she created a website called Kohkum's Gathering. It includes storytelling videos of 13 legends, and teachers can use the media to teach curriculum-based lessons. Kohkum's Gathering, which is available for teachers to use and share with other school divisions, has gained popularity with teachers and educational institutions not just throughout the Prairie provinces but all over Canada.
"When I share my legends, I make sure the children know which nation I received the story from," said Meyer, who always says that she is from the Beardy's and Okemasis Cree Nation when she introduces herself.
Using a globe showing Turtle Island — the continent of North America — she'll point out which nation her stories originate from. She feels this helps children understand where the stories are coming from, teaches connections with the stories and brings the students to a mindful place.
Article content
She uses puppets and pictures to keep the children engaged, saying a good storyteller will bless the imagination of a child and bring them so they can picture the place at which they could be standing.
In addition to stops in communities such as Tisdale, Naicam and Melfort this month, Meyers will take part in online sessions through the Office of the Treaty Commissioner.
The storytelling sessions aren't just for young kids, either. For older students, Meyer said, "it rekindles them back to their childhood, and we are trying to train them to be adults, but we can't forget that there is a child in all of us. It brings the child out of everyone."
The Local Journalism Initiative is funded by the Government of Canada. Nicole Goldsworthy is based at the Humboldt Journal.
Storytellers share diverse perspectives during Aboriginal Storytelling Month

Cuthand: Winter the perfect time for Saskatchewan Aboriginal Storytelling month
The news seems to be flying at us faster all the time. From COVID-19 updates to politics and crime and everything in between, it can be hard to keep up. With that in mind, the Saskatoon StarPhoenix has created an Afternoon Headlines newsletter that can be delivered daily to your inbox to help make sure you are up to date with the most vital news of the day. Click here to subscribe.