We tend to only see high-profile cases of buildings being shut down; but a softer touch is often the reality when it comes to enforcing the fire code in Saskatoon.
Article content
While Saskatoon has in recent years seen several high-profile examples of the city's fire department moving to enforce the fire code in extreme situations, Fire Marshal Brian Conway is hard-pressed to explain exactly why.
Article content
"The role has not changed," he said over lunch at The Great Canadian Brewhouse location in the city's Hampton Village neighbourhood, having just accompanied Saskatoon Fire Department inspector Braden Gartner on an annual inspection of the building.
Article content
Just last month, the fire department stepped in to have an apartment suite vacated after 72 cats were found living inside. It has previously taken action against the Lighthouse Supported Living Inc. in 2022 and the Prairie Heights condo tower in 2021. In 2020, it closed the City Centre Inn and Suites, formerly the Northwoods Inn and Suites.
Conway suggests the city's continued growth is what drives a lot of the work. The fire department has added staff to the inspections unit, conducting some 175 inspections last year. The rise of social media can also heighten public attention to issues, he says.
Article content
While both he and Gartner say they won't hesitate to seek fines, have contractors perform work at an owner's expense, or even order a property vacated if necessary, the bulk of their work involves a much softer touch.
Even as they sit down for lunch, they pause to field questions from an electrician asking how best to comply with Saskatchewan's recently announced move to require carbon monoxide detectors in all residential buildings. The job is often about educating, rather than "being the heavies," Conway says.
During the inspection of the pub, Conway notes inspectors don't memorize the entire fire code. He says the approach is largely a matter of applying common sense; if something doesn't look right, an inspector can refer back to the code to determine if there's an infraction. Owners are always given the opportunity to appeal decisions, he adds.
Article content
At one point, Gartner and Conway encounter a pair of patio umbrellas obscuring a fire alarm — it's a contravention of the code, but Conway just moves the offending items out of the way, noting they fix issues that can be addressed on the spot.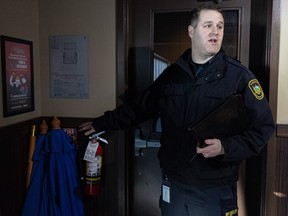 Gartner says he's thinking about how people are likely to react in the event of a fire as he assesses buildings.
"People are going to flow towards 'Exit' signs," he explains as he points out another no-no: it's the dead of winter, but the restaurant's main floor patio doors are still considered a fire exit, and they're blocked by snow on the date of the inspection. This is one neither Conway nor Gartner will fix themselves; Conway later suggests to the manager that they consider having the company that removes snow in their parking add the patio to their duties.
Article content
"It pays for itself pretty quickly," Conway notes, while advising the restaurant manager that this particular infraction will net a $250 fine if left unaddressed.
Along with thinking about patrons' safety, Gartner says he also keeps an eye out for things that could create hazards for firefighters if they ever had to respond to a blaze. Power boxes are checked to ensure they won't create a risk of electrocution, and Gartner asks staff to clear paths to other utility systems, noting unimpeded access can spare precious time for fire crews.
Gartner is a six-year veteran of building inspections. Although he initially saw the role as a stepping stone to a regular firefighting position, he says he's come to find that being an inspector fits his detail-oriented side.
Article content
While he says it can be frustrating chasing the odd uncooperative property owner, most people still tend to come around before things escalate to heavier enforcement.
"You get to see the problems being solved," he says.
A shuttered motel and Saskatoon's hidden housing crisis

Beyond the blaze: Saskatoon fire investigations yield cause, safety insights
The news seems to be flying at us faster all the time. From COVID-19 updates to politics and crime and everything in between, it can be hard to keep up. With that in mind, the Saskatoon StarPhoenix has created an Afternoon Headlines newsletter that can be delivered daily to your inbox to help make sure you are up to date with the most vital news of the day. Click here to subscribe.