Article content
At Tuesday's celebrity poker tournament, an ace fundraiser for the Calgary Flames Foundation, you can bet that fellow card sharks were wary of fourth-line forward Walker Duehr.
Article content
If you can make a puck disappear in front of 18,000 witnesses, who knows what other tricks you have up your sleeve, right?
Article content
"It was probably the craziest goal I've ever scored, just because nobody knew it went it. Not the refs, not anybody," Duehr said, grinning, as he reminisced about Monday's memorable marker against the Columbus Blue Jackets. "It's crazy that it went in and you didn't really see anybody jump up or anything, because nobody knew. Even watching it over, you never really see it. I mean, you see it go through his five-hole and then it disappears so you have no idea where it went."
Article content
When that puck … poof … vanished, Duehr figured that Blue Jackets netminder Joonas Korpisalo must have managed to get just enough of it.
Article content
"I was thinking, 'Oh, good save by him,' " he said. "I did catch it clean and I didn't see it after, so I thought it just trickled through and he got lucky by laying on it."
In the broadcast booth, Sportsnet's Rick Ball exclaimed: "There's a shot, and they score! Oh pardon me, is it in?"
Duehr's linemate, Jakob Pelletier, had a prime view and was sure that he'd heard the puck thump the back of the net but when nobody else reacted, he too started to second-guess himself.
"I put my hands up and then I saw the goalie laying down, like he had the puck under him and I was like, 'Am I stupid? What's going on?' " Pelletier said. "And then I went to look, and it was in."
'A tough loss': Flames without defenceman Chris Tanev for next two games

Goaltender Dan Vladar quietly on the brink of equalling franchise record
Article content
On the home bench at the Saddledome, Darryl Sutter and Tyler Toffoli immediately turned to the monitor, needing to see a replay.
And Andrew Mangiapane?
"I didn't know what was going on, and the horn went off," Mangiapane said. "I thought someone might have slipped their finger and pressed the button by accident."
This was not operator error.
As linesman James Tobias arrived, Pelletier finally spied the missing puck and pointed out that the biscuit was, as they say, in the basket.
About 15 seconds after Duehr had uncorked that one-timer, the celebration was on.
From his play-by-play perch, Ball quipped: "I'll never question myself again!"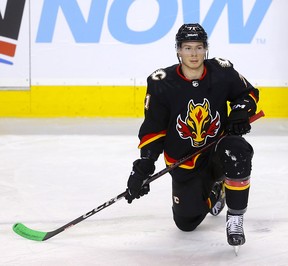 'A WEIRD WAY TO SCORE'
Duehr was thrilled to bury his second big-league goal, but his primary focus is avoiding a disappearing act of another kind.
Article content
The 25-year-old right-winger has suited up for seven in a row since being recalled from the AHL's Calgary Wranglers. He should make it eight straight in Thursday's with the visiting Chicago Blackhawks (7 p.m. MT, Sportsnet West/Sportsnet 960 The Fan).
"It's been nice to get a few games in a row. You get to build on your game and bring my game to the NHL, right?" said Duehr, who has registered 11 shots on net and 15 hits during this NHL audition. "It's nice to be able to go out there each and every day and get better at things that I maybe didn't do so well or the things I did do well, to grow on those in each game and every day in practice.
"It's just getting more comfortable with everyone around you, with your new surroundings, and then just growing your confidence. The lights are on every night up in this league, so it's just gaining confidence in that environment and just getting used to this big-time environment."
Article content
Sure is, but it doesn't feel so big-time when you notch a goal and nobody seems to notice.
"It was a weird way to score your first one at home," agreed Flames speedster, Dillion Dube who sniped the overtime winner against the Blue Jackets. "The celebration was a little delayed there, but we were all pumped for him. It was great to see."
ICE CHIPS: Tuesday's celebrity poker tournament raised a whopping $425,000 for the Flames Foundation. NHL alumnus Peter Allen won the first-place prize at the sold-out event and immediately donated the spoils back to the charity. Classy move.
wgilbertson@postmedia.com
Twitter.com/WesGilbertson