Wednesday started with parents warned of another bomb threat against the school and ended with police being called to the school board meeting to silence angry parents
Get the latest from Adrian Humphreys straight to your inbox
Article content
In trying to settle its messy culture war fracas over transgender rights and responsibilities that is attracting international attention, an Ontario school board plunged into controversy over freedom of speech and censorship.
Article content
The day started with parents being warned of another bomb threat against the school and ended with police being called to the nighttime school board meeting to silence angry parents, while others complained they couldn't speak without first submitting to censorship.
Article content
The Halton District School Board meeting Wednesday night was expected to see a thawing of tensions over its unwillingness to address concerns over a gender transitioning teacher wearing enormous and sexualized prosthetic breasts under tight-fitting tops in the classroom.
Photos and videos of the industrial arts teacher at Oakville Trafalgar High School, west of Toronto, by bemused students in September caused concern for some, and the academic year has been marred by protests, legal letters, petitions, and a string of anonymous bomb threats and warnings of targeted shootings.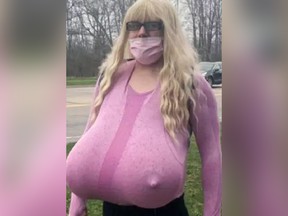 In January, the board finally agreed to write a policy for teachers and staff to maintain "appropriate and professional" dress and decorum in the classroom. Curtis Ennis, the board's director of education, was to provide an interim report on the dress code at Wednesday's meeting.
An overflowing crowd came to hear his report and some with approval to speak to the board.
Article content
The first public address came from a transgendered woman who opened her statement by saying trustees censored her views and made her rewrite her speech before allowing her a platform.
Julia Malott is in favour of enacting a dress code for teachers — one that allows them freedom to express their self-identified gender, but also reins in outfits that exaggerate natural proportions.
Before her speech, she told National Post that few transgendered people are willing to publicly wade into the controversy.
Malott said she agreed to submit her statement to the board in advance so she could address the matter, but was told she had to change her words in order to be allowed to speak.
"We are sorry you felt this was not open and transparent process," the school board told Malott in an email prior to the meeting, before telling her two sentences in her presentation were forbidden to be spoken in public. The email was read by National Post.
Article content
The forbidden passage read: "There are also breast forms that exaggerate natural proportions and are used by the drag industry and sex workers. The distinction between these very different products is quite clear and a well written professionalism policy should have no difficulty distinguishing between the two."
Malott said she reluctantly agreed to change her presentation.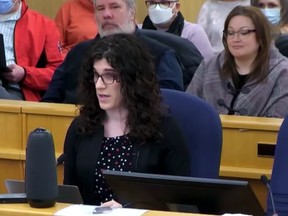 She told the board a sensitive dress code wasn't an anti-trans act.
"It is entirely possible to administer a dress code that is inclusive of transgender individuals," she said. She suggested a policy mirroring the one for Halton students.
"This certainly is a world away from the dress code that was enforced upon me when I was a student in high school many years ago.
Article content
"So long as the dress code does not explicitly require an individual to present in alignment with birth sex, there should arise no gender expression issue arising out of standards of professionalism," Mallot said.
Her speech was received warmly by trustees and applauded by members of the public gallery, including hooting.
School board where trans teacher wears huge fake breasts will order dress code for staff

Bomb threats at Oakville school over trans teacher linked to threats against Boston Children's Hospital
Margo Shuttleworth, chair of the board of trustees, said that vetting presentations was done to ensure "all the voices of the community are heard," which brought jeers from the public gallery.
Shuttleworth threatened to pause the meeting and eject people if there were public interjections.
Article content
Parents wishing to speak to the board complained of the trustee's insistence that presentations first be vetted. Some said they were barred from speaking after declining to agree.
After four hours of working through the board meeting's agenda, Ennis finally gave his interim report on the dress code.
It wasn't well received.
Instead of information on the policy's direction or content, Ennis listed statues, laws, regulatory bodies and policy documents that the board would be "mindful of." He defined what a policy is. And said stakeholders would be consulted but wasn't sure who or how or when.
He offered little substance in answer to questions from trustees.
Several members of the public complained.
"You can sit and listen, or you can leave," Shuttleworth told the gallery.
Article content
Shortly afterwards, she put the meeting on hold. Several board officials left the room.
Some members of the gallery complained of the bomb threats, classroom disruptions, others of not getting information. One woman shouted about "psychological and sexual abuse" of children. There were complaints of not understanding Ennis's answers. Some just called out "shame" and "resign."
"I'm afraid to send my son to school," said one woman.
Three police officers arrived. One woman was removed from the gallery.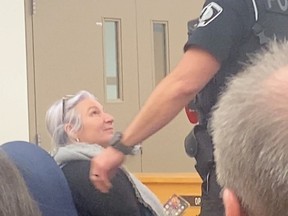 The meeting eventually reconvened.
"It is beyond frustrating and disappointing," Celina Close, whose child attends the school and who is a spokesperson for a parents group called Students First Ontario, said after the meeting.
"The directors report that was shared contained nothing that indicates that an entire school board is doing anything to rectify the problems that we are experiencing. I have completely lost trust and faith in everyone involved."
A board spokesman did not return a request for comment last night prior to deadline.
• Email: ahumphreys@postmedia.com | Twitter: AD_Humphreys
Get the latest from Adrian Humphreys straight to your inbox