Article content
We might be in the middle of winter, but the Town of Amherstburg's tourism and culture department believes there's ample reason for a nighttime outdoor party — and for feeling true to yourself.
Article content
The TRUE Festival — a celebration of diversity and inclusivity — is set to happen in the 200 block of Dalhousie Street in Amherstburg this Saturday from 6 p.m. to 10 p.m.
Article content
With a theme of support for the LGBTQ+ community, the event will feature drag performers, a fire show, outdoor activities such as street curling and "glow" cornhole, and an outdoor disco party.
"We are so excited. The lineup is incredible, and this is all free," said Jennifer Ibrahim, tourism coordinator for the Town of Amherstburg.
"We're really hoping people bundle up and come out to Amherstburg. There's no better time to be out. We all have a bit of cabin fever going on right now. Our disco inferno will keep everybody warm."
DJ Josh Karmin will be responsible for the tunes, but there'll also be free hot chocolate and s'mores to keep the energy levels up.
Article content
A team from Hoop You intends to impress with their hula hoop and fire wand skills, while drag queens Dulce, Koko Starr, and Liquorice will lead the good-time vibes.
Warming igloos will be ready for those who need a bit more shelter, or some stronger beverages.
The idea for the TRUE Festival arose more than three years ago, and the event had its first edition in February 2020 — just before the COVID-19 pandemic shut down many public events.
Ibrahim said Town of Amherstburg tourism staff are eager to bring the TRUE Festival back as an annual offering after having to skip 2021 and 2022.
"The only reason (for skipping those years) was because of COVID," Ibrahim said. "We were on lockdown or had other restrictions placed on us."
Article content
Periods of snow and temperatures below 0 C are in the forecast for Saturday night, but Ibrahim doesn't feel the wintry conditions will diminish people's desire for social activity: The 2020 edition of the TRUE Festival attracted hundreds.
"We're expecting even more this year," Ibrahim said. "We've partnered with Windsor-Essex PrideFest, and they've committed two shuttle buses to attend the festival."
The 2023 edition of the festival is also enjoying the sponsorship and participation of local businesses, such as Evelyn's Candy House and Wolfhead Distillery.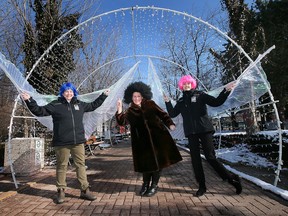 Although LGBTQ+ issues and drag performers have been the targets of sometimes volatile public debate in recent years, Ibrahim isn't worried about Saturday's event being met with any controversy.
Article content
"This message (of diversity and inclusivity) has always been important. We have a very thoughtful and caring community, and we know they support it. We're very proud," Ibrahim said.
Amherstburg Mayor Michael Prue said the municipality is thrilled to hold the TRUE Festival.
"We are a welcoming and inclusive community, and this is an opportunity to showcase local businesses' warm hospitality," he said.
For more information about the TRUE Festival, go to visitamherstburg.ca.
The Windsor-Essex PrideFest shuttle buses on Saturday will depart Windsor's Market Square (2109 Ottawa St.) at 5 p.m. The return trip from Amherstburg (67 Richmond St.) will leave 11 p.m. Bus seats must be reserved in advance by emailing info@wepridefest.com or purchasing a $5 ticket on eventbrite.ca.