Article content
Investigation continues into a vicious assault and robbery in the Glengarry Avenue area last week, with Windsor police revealing more details and searching for more suspects.
Article content
Police now say they believe the 42-year-old male victim — who suffered serious, life-threatening injuries in the attack on Feb. 6 — was the target of a home invasion, and five assailants were involved.
Article content
The man was a resident of an apartment building in the 300 block of Glengarry Avenue. He was confronted and then beaten with what police describe as "a metal object."
Police are also now saying that two other victims were robbed of personal items in the incident.
Officers with the City Centre Patrol arrested an adult male suspect in the case on Tuesday, around 9 p.m., in the 600 block of Wyandotte Street East.
Matthew Reis, 35, was taken into custody. He faces one count of aggravated assault and two counts of robbery.
At the time of his arrest, Reis was found with quantities of crystal methamphetamine, crack cocaine, and fentanyl — with the drugs "individually packaged and ready for sale," according to police.
Article content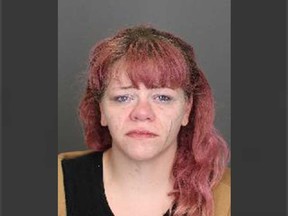 Reis is additionally being charged with three counts of possession of drugs for the purpose of trafficking.
Meanwhile, Windsor police are still seeking an adult female previously identified as a suspect in the case: 28-year-old Teanna Logan, who remains wanted on charges of aggravated assault, robbery, and uttering death threats.
Police have also identified another male suspect: 45-year-old Dion Shaw, now wanted on charges of aggravated assault and robbery.
Two additional suspects — a senior age adult male and an adult female — have not been identified, but were recorded on surveillance cameras as being involved in the incident.
The unknown senior is described as a white male appearing to be in his 60s or 70s, with shoulder-length white hair. At the time of the incident, he was wearing a puffy white and gold winter jacket, a blue shirt, black pants, and white shoes.
Article content
Windsor woman wanted by police after Glengarry Avenue assault and robbery

Four people charged after man dies in Glengarry Avenue stabbing

Police arrest fifth suspect in fatal Glengarry Avenue stabbing
The unknown woman is described as a white female appearing to be her 50s or 60s, with brunette hair. At the time of the incident, she was wearing a black winter coat, green hooded sweater, and black pants.
Anyone with information about this incident or the whereabouts of the four outstanding suspects is encouraged to contact investigators at 519-255-6700 ext. 4830.
Anonymous tips can be made via Crime Stoppers at 519-258-8477 or www.catchcrooks.com.
In recent years, the 300 block of Glengarry Avenue has become a nexus of drug crime, weapons offences, and violent incidents — including Windsor's first homicide of 2023, a fatal stabbing that led to charges against five people.