Phillips leads the American Hockey League with nine game-winning goals — four more than anyone else in the league
Article content
He is, on a frequent basis, spoiling the night for the opposing goaltender — and his teammates certainly aren't complaining about that part.
Article content
It's just that Calgary Wranglers standout Matthew Phillips is also spoiling a longstanding locker room tradition.
Article content
Phillips leads the American Hockey League with nine game-winning goals. Around the loop, no other skater has been credited with more than five result-clinching snipes.
"I was just bugging him about this, saying we have to stop putting money on the board for game-winners, because we may as well just give it to him," grinned Wranglers captain Brett Sutter, second on this squad with four game winners.
Article content
"But he's been our guy, all year. He's that guy who, with five minutes left in the game and you need a big goal, you can look down the bench and you know Philly is going to be there for you. He's a competitor. He lives for those big moments. He's a great teammate. He has a ton of skill. He's just a guy you want on your team every night. We're sure happy he's on our side."
Article content
Phillips has been money for the Wranglers, currently perched atop their division with a 34-12-2 record.
Heading into Friday's home date against the Colorado Eagles, the 24-year-old right winger leads the AHL with 25 tallies. What's remarkable is more than a third of those goals have decided the outcome on that particular night.
The undersized-but-oh-so-skilled Phillips is also two for two in shootouts, with both counting as the clincher. (Those are not considered GWGs, instead recorded in a separate stat column.)
How do you explain that sort of consistency in the clutch?
"Probably a lot of luck, I'd say," shrugged Phillips, fresh off a trip to the AHL's all-star festivities. "There's been some games that I'll score in the first and someone will tell me after that I scored the game winner. I've had a couple games where I had a late, timely goal, and those always feel good. But I don't think there's any special recipe for it."
Article content
Others aren't buying that.
"I've seen this back when he was a junior, and I've seen it now coaching him for the last two years," said Wranglers skipper Mitch Love, who was a Western Hockey League bench boss when Phillips was stuffing the net on behalf of the Victoria Royals. "Matt seems to play his best hockey when the game is on the line. That's just him as a person. That's him as a hockey player. He's a competitive individual who understands and has a sense that when his team needs him for something, he's going to come up big. I've seen it for a long, long time.
"That's what he does and I don't expect that to change anytime soon, just knowing him and his will to want to win and help the team."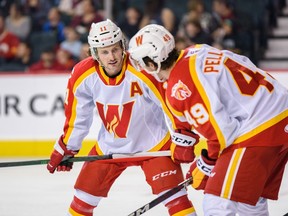 With 24 regular-season dates remaining, Phillips is already on the brink of joining exclusive company.
Article content
In the past decade, only three AHLers have hit double digits in GWGs. Stefan Noesen, now a full-time forward for the Carolina Hurricanes, topped the charts last winter with 13, two shy of equalling the league record. That belongs to Jeff Hamilton, who potted 15 winners on behalf of the Bridgeport Sound Tigers in 2003-04.
Phillips, like every farm-clubber, is aiming to prove that he can help at the highest level. This fan-fave prospect earned a shot with the Flames in December but dressed for only two games — in Toronto and Montreal — and watched seven others as a healthy scratch.
"I didn't really get to play a whole lot, but I think there's still things that I learned from that and a couple big stages that I played on, so I'm just looking to get back there," he said.
Article content
One of the many perks of a call-up, of course, is a significant bump in salary.
As he pushes for another NHL opportunity, Phillips is apparently supplementing his income with what players refer to as money on the board.
How is he's spending the extra loot? Perhaps the captain knows?
"Certainly not on us," Sutter quipped.
Phillips smiled at the mention of collecting a few bucks from his buddies but insisted that part is merely a bonus.
"That's why you play the game is for those big moments. Scoring a game-winner or a tying goal or something like that, that's what feels best," he said. "Sometimes, you get those bounces and sometimes you don't, but I like being on the ice in those moments and I kind of want the puck on my stick in big times. And when you get a couple lucky bounces like I have this year late in games, it feels good."
Article content
WRANGLERS REPORT
UPCOMING SCHEDULE  
Friday — Colorado Eagles at Wranglers, 7 p.m.
Saturday — Colorado Eagles at Wranglers, 6 p.m.
Wednesday — Wranglers at Henderson Silver Knights
Thursday — Wranglers at Henderson Silver Knights
WHO'S HOT? 
While the Flames' farmhands weren't especially sharp in Wednesday's 4-2 home loss to the Abbotsford Canucks, their shorthanded staffers were once again spotless. That's hardly a surprise — they boast the AHL's top penalty-kill percentage at a sparkling 86 per cent.
FAST FACT 
The Wranglers do more than lamp-lighting than any team on the minor league circuit, with a grand total of 179 tallies so far. They have nine different forwards in double-digits in goals — a list that includes Phillips (25) and the currently-called-up Jakob Pelletier (16), plus Walker Duehr (15), Connor Zary (14), Emilio Pettersen (14), Mitch McLain (13), Brett Sutter (12), Ben Jones (11) and Cole Schwindt (10).
wgilbertson@postmedia.com
Twitter: @WesGilbertson